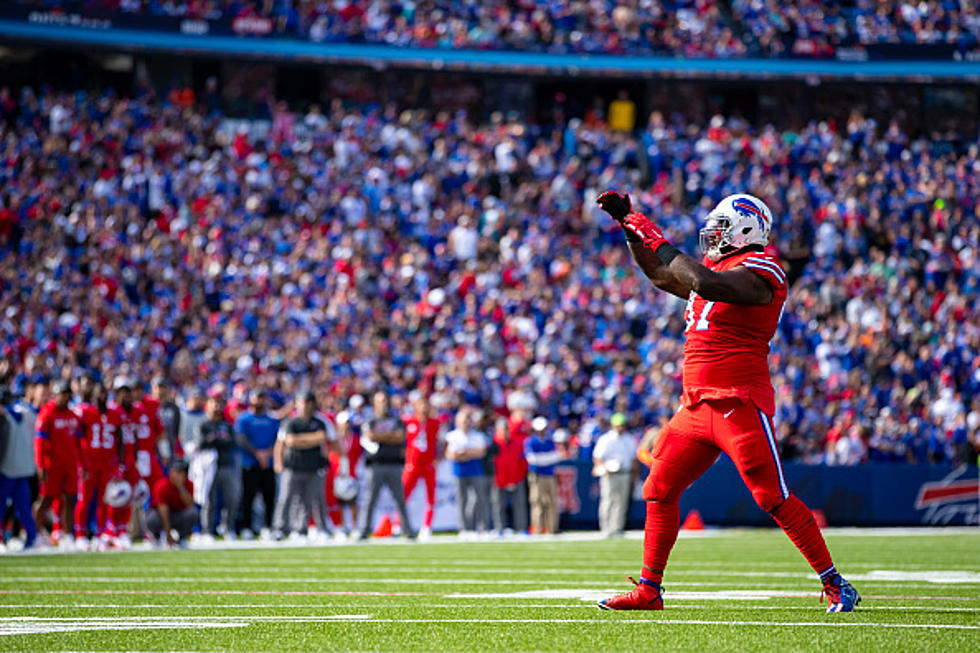 Former Bills Player Seen Tailgating With Bills Mafia In KC [PHOTO]
Getty Images
The Buffalo Bills are about to play in what is by far the most important game of the 2021 regular season and the playoffs, as they will face their AFC arch nemesis, the Kansas City Chiefs at Arrowhead Stadium. Kickoff is at 6:40 pm on CBS.
The Bills and Chiefs have the two most talented and exciting quarterbacks in the entire NFL, in Josh Allen and Patrick Mahomes, and this is certainly a playoff rematch that all fans around the NFL were looking forward to taking place.
There is so much excitement that even former Bills players, who are still CURRENT, NFL players are partying with Bills Mafia.
Last Saturday, beloved former Bills starting quarterback, Ryan Fitzpatrick was seen cheering and screaming at the top of his lungs in the frigid Orchard Park weather...and oh by the way, he was shirtless.
Now, former Bills defensive tackle and current Arizona Cardinals defensive tackle Jordan Phillips was caught tailgating with Bills Mafia at Arrowhead Stadium.
Phillips was even wearing a Star Lotulelei jersey, and said he wanted to cheer on his former teammates.
Phillips last played for the Bills during the 2019 season, and his final game was the playoff loss in Houston against the Texans in January of 2020.
Phillips was a fan favorite in Buffalo and it was because of his breakout NFL season in 2019 and his fun personality.
It's amazing that former Bills who are current NFL players, are partying with Bills Mafia. That is beyond cool.
Go Bills.
Last Time The Bills Won The AFC East At Home
The Buffalo Bills 2022 Opponents
The Buffalo Bills 2022 opponents are officially set.
LOOK: Things from the year you were born that don't exist anymore
The iconic (and at times silly) toys, technologies, and electronics have been usurped since their grand entrance, either by advances in technology or breakthroughs in common sense.
See how many things on this list
trigger childhood memories—and which ones were here and gone so fast you missed them entirely.
RANKED: Here Are the 63 Smartest Dog Breeds
Does your loyal pup's breed make the list? Read on to see if you'll be bragging to the neighbors about your dog's intellectual prowess the next time you take your fur baby out for a walk. Don't worry: Even if your dog's breed doesn't land on the list, that doesn't mean he's not a good boy--some traits simply can't be measured.
LOOK: What major laws were passed the year you were born?
Data for this list was acquired from trusted online sources and news outlets. Read on to discover what major law was passed the year you were born and learn its name, the vote count (where relevant), and its impact and significance.
See How School Cafeteria Meals Have Changed Over the Past 100 Years
Using government and news reports,
Stacker
has traced the history of cafeteria meals from their inception to the present day, with data from news and government reports. Read on to see how various legal acts, food trends, and budget cuts have changed what kids are getting on their trays.
LOOK: Here are the pets banned in each state
Because the regulation of exotic animals is left to states, some organizations, including The Humane Society of the United States, advocate for federal, standardized legislation that would ban owning large cats, bears, primates, and large poisonous snakes as pets.
Read on to see which pets are banned in your home state, as well as across the nation.