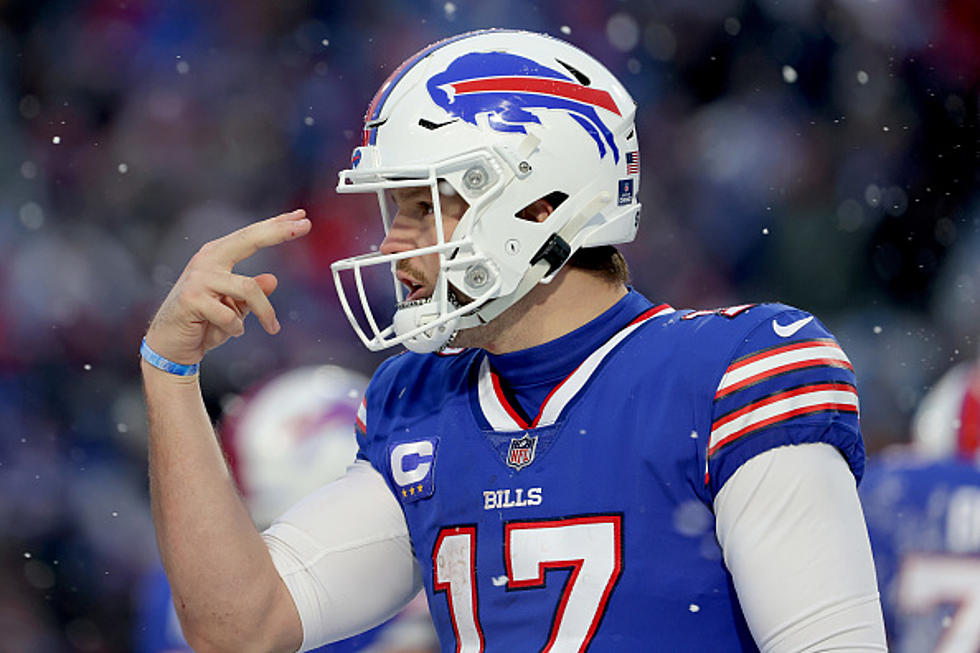 Josh Allen Tells The World How Buffalo Says 'Goodbye' [VIDEO]
Getty Images
The Buffalo Bills are heading to the playoffs for a third straight season and the fourth season out of five, after their 29-15 win over the Atlanta Falcons at Highmark Stadium on Sunday.
Buffalo also needed a loss from the Baltimore Ravens to clinch a playoff spot, which happened, as they lost to the Los Angeles Rams 20-19.
The Bills can clinch the AFC East with a win over the New York Jets next Sunday, or a New England Patriots loss to the Miami Dolphins. The Bills could be anywhere from the 2-7 seed in the AFC playoff picture, but the likeliest seeds are 3 or 4.
After the win, Bills quarterback Josh Allen was interviewed in the snow by FOX Sports. He talked about the win and the fact the Bills ran the ball to win, rather than pass, which was not a usual thing for Buffalo.
Josh also talked about the playoffs and at the end of the interview, Allen made sure to say what most everyone says in Buffalo when they leave. Not goodbye, but rather "Go Bills."
Watch the interview below.
I love how Josh briefly put the microphone up, but then he remembered, and put it back down real quick to say "Go Bills." If you watch Josh's postgame interviews with national broadcasts enough, you might be aware that he tries to drop a "Go Bills" at the end of each one.
Allen and the Bills will look to win against the Jets in week 18 to guarantee themselves at least one home playoff game. The most likely first-round opponents are the Patriots, Colts or Raiders.
Bills playoff Gear For Sale
The Bills are in the playoffs and now you can buy playoff gear.
Jerseys You Should Never Wear At A Buffalo Game
You should never be caught wearing these jerseys.
22 Famous Buffalo Sports Phrases Every Die-Hard Bills and Sabres Fan Knows
Being a sports fan in Buffalo is sometimes like knowing a different language. Here are 22 of our favorite Buffalo sports phrases you already know if you're a huge fan! And if you're new here, here's how to catch up.
KEEP READING: Here are 50 of the most famous sports goofs