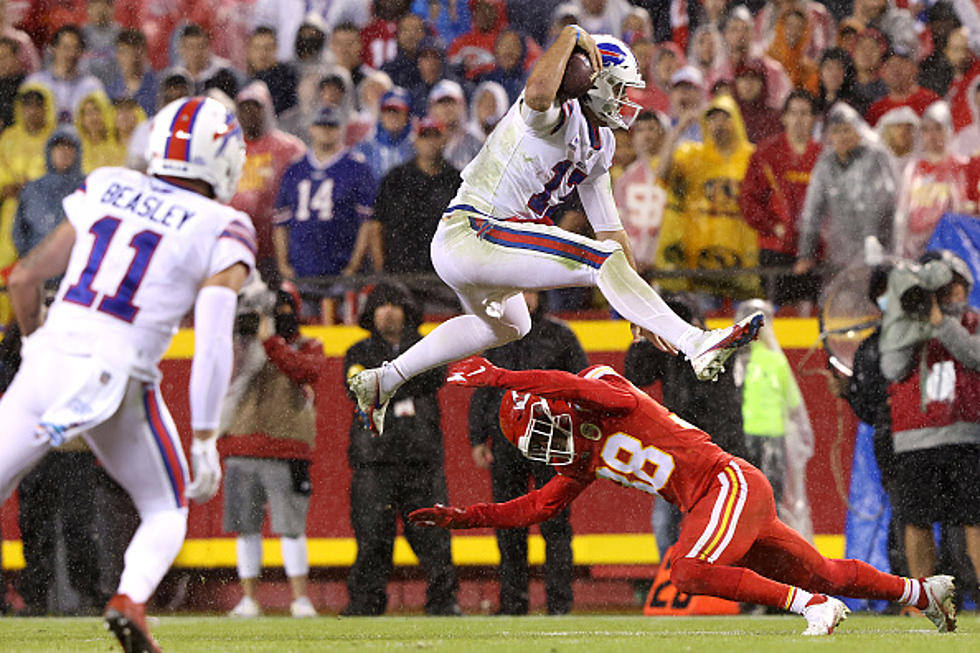 Josh Allen Creates Iconic Moment In Bills History Last Night [WATCH]
Getty Images
The Buffalo Bills had one of their biggest statement wins in team history and it's not the slightest exaggeration.
They defeated the Kansas City Chiefs by a score of 38-20, in a game that the Bills had to not only battle the high-powered Chiefs offense at Arrowhead Stadium, but the nearly two-hour lightning delay and the parade of penalties from the officiating crew.
The Bills played a near perfect game against the Chiefs and the most iconic moment from the game just became one of the most iconic moments in Buffalo Bills history.
Allen led a touchdown drive towards the end of the game that ended with an Emmanuel Sanders touchdown pass to go up 38-20 seal the game.
Allen, however, needed to convert a 3rd and 4 around midfield and he did so in fashion. Allen literally leaped over cornerback L'Jarius Sneed and all of NFL social media went crazy.
This isn't the first time it's happened, either. Allen did it against the Minnesota Vikings in September of 2018 he hurdled over linebacker Anthony Barr.
I gasped when I saw it and so did all of Bills Mafia on Twitter. What made it more incredible is the Bills needed this play. It was a 3rd and 4 and the Bills were only up by 11 with over nine minutes remaining. Who knows what happens without this hurdle for a first down.
This is probably the biggest regular season win for the Bills in many years and that's because of who the opponent was, how they won, the adversity they battled, and the fact it was on primetime.
Bills fans will have a very happy Monday, by the looks of it.
15 Things You Should Never Do at a Bills Home Game
Things that are a no-no to do at a Buffalo Bills home game.
Step Inside This $15 Million Mansion In The Finger Lakes
This $1.2 Million Home In Lancaster Has The Nicest Kitchen In WNY
We cannot believe how huge and gorgeous this Lancaster home's kitchen is!