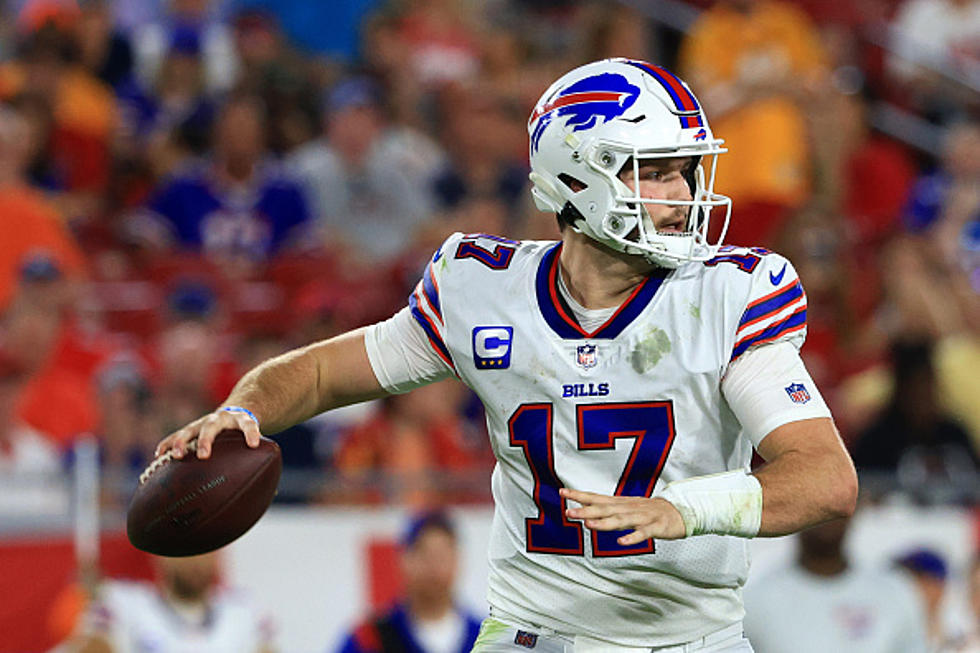 Josh Allen Slighted By ESPN Personality [PHOTO]
Getty Images
Buffalo Bills quarterback Josh Allen has helped clinch a third consecutive playoff appearance for his franchise and after being a runner-up for NFL MVP last season (Aaron Rodgers), Allen is having another great statistical season once again, passing for over 4,000 yards and having 40 total touchdowns in 2021.
If you go back to his rookie season, however, there were plenty of Allen detractors. You can go all the way back to January-April of 2018, leading up to the 2018 NFL Draft. Allen was probably the most heavily scrutinized quarterback prospect in history, and many fans and experts had written him off already as a bust, mostly based on his completion percentage statistics at the University of Wyoming.
Even though Allen has become a star quarterback in Buffalo, there are still a fair number of instances that seem to get Bills fans riled up.
This week, Max Kellerman, who is a host on ESPN's This Just In show, decided to rank his top five NFL playoff quarterbacks this season, and believe it or not, Josh Allen is nowhere to be found.
You can't argue with any of the talents of those other quarterbacks, but yeah, Allen has to be on there. Burrow's been on fire but he has not played in a playoff game yet, and Kyler Murray has had struggles with the Cardinals since losing wide receiver De'Andre Hopkins.
Allen has a chance to lead the NFL in total touchdowns (passing and rushing), yet he was not an AFC Pro Bowler in 2021.
Make it make sense. Keep that chip on the shoulder.
The 10 Commandments of Buffalo, NY
Here are things that people from Buffalo should always follow!
Top Rated Buffalo Bills Players In Madden 22
Here are the top-rated Buffalo Bills players in this year's version of Madden football.
16 Buffalo Bills With Some Of The Best And Worst Nicknames
15 Things You Should Never Do at a Bills Home Game
Things that are a no-no to do at a Buffalo Bills home game.
The 25 Worst Street Names In Buffalo, New York