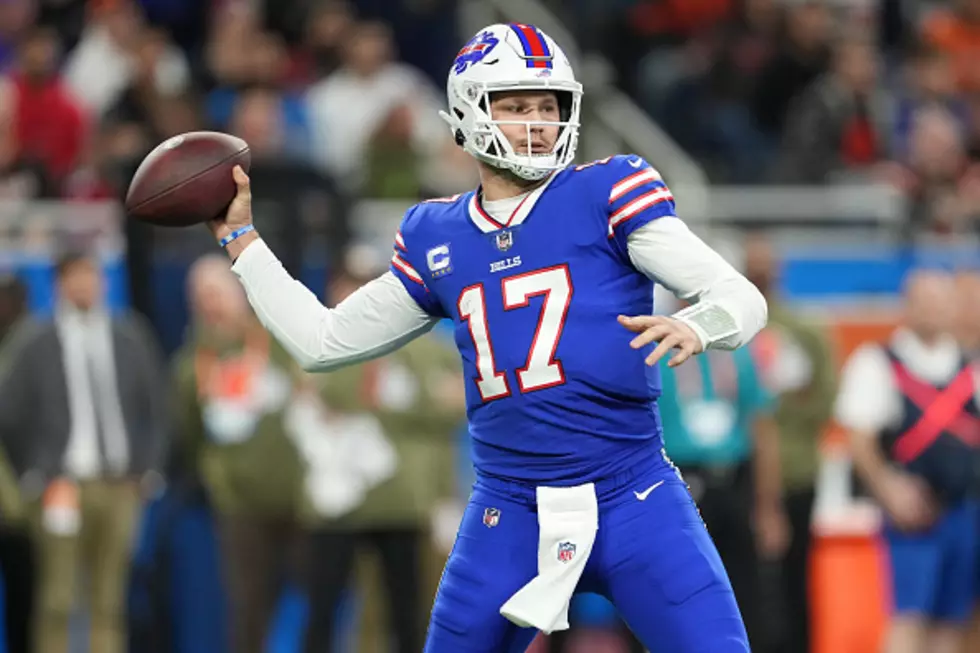 Josh Allen Taking Heat From Bills Fans For Thanksgiving Food Take
Getty Images
The Buffalo Bills are getting ready to play the Detroit Lions for the traditional Thanksgiving game at Ford Field this Thursday. Kickoff is at 12:30 pm.
For the Bills, this will be the second straight game at Ford Field and the second game in Detroit in five days. The reason, as we all know, is the historic lake effect snowstorm that dumped nearly 7 feet of snow on Orchard Park.
The Bills winning on Sunday against the Cleveland Browns was extremely impressive, just because of all the adversity and distraction last week. The snowstorm almost prevented the Bills from making it there in time and the illness that hit some of the locker room prevented the Bills from having a normal practice last Tuesday.
Bills quarterback Josh Allen didn't have his best game against the Browns but he made plays when he had to for the win.
With the Thanksgiving Day holiday this week, the Bills asked their players what is their biggest Thanksgiving food hot take? Basically, the worst Thanksgiving food?
We had a few turkey answers, which seems to be the trendy thing for people to do -- say turkey isn't good for Thanksgiving, but Allen stood up for turkey and said ham is the worst Thanksgiving food.
Josh can be heard saying "ham? ham's the worst, you wanna have ham for Thanksgiving?"
I'm 100 percent in Josh's corner on this one. Team turkey all day.
Some Bills fans were crushed.
If you take the innards out of a fresh turkey then just stick it in the oven for a few hours, it's probably going to be dry. Turkey should be based regularly or brined before going in the oven. Injections help to, as does seasoning before cooking.
Every time I have ham, I think to myself "what's the hype about?"
Turkey is great. I will defend Josh.
16 Best Bars in Buffalo for the Night Before Thanksgiving
The best bars for "drinksgiving" in Buffalo and Western New York.
12 Stores Open on Thanksgiving 2022 in New York State
Some major retailers who
will be open
on Thanksgiving in 2022, here in New York State.
11 Foods You Can Feed Your Dog This Thanksgiving
It's hard to say no to your furry little friend, but it becomes especially more difficult to look your pet in the eyes and say "No food for you," when it is Thanksgiving dinner.
Luckily, there are 11 Thanksgiving foods that are safe for your pet to eat, so they can be part of the yearly feast, too!