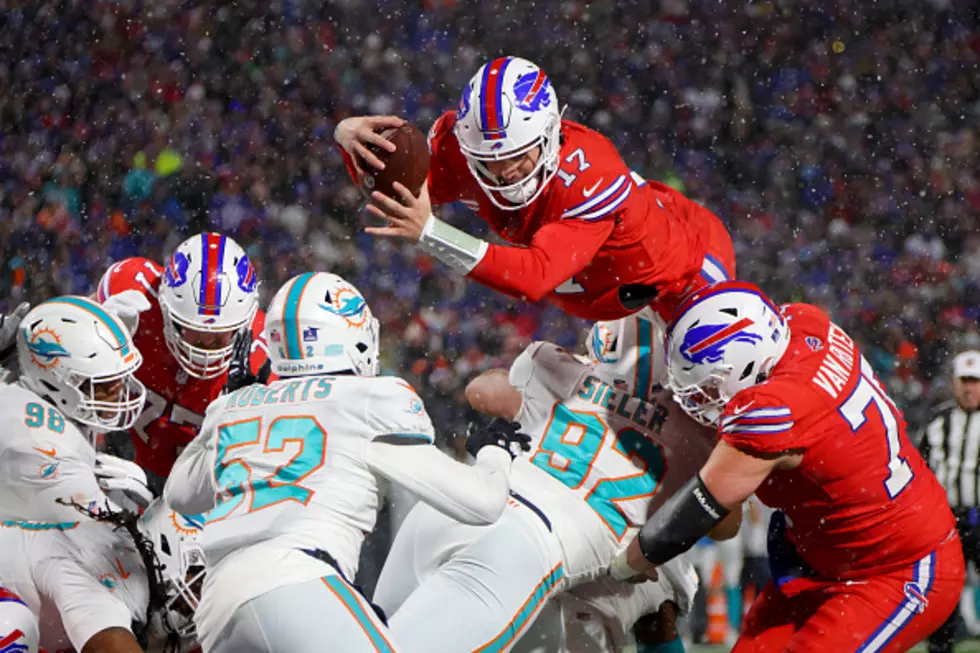 This Proves That Josh Allen Owns the Miami Dolphins
Getty Images
The Buffalo Bills (11-3) have clinched a postseason berth for a fourth consecutive season and have a 99 percent chance at winning the AFC East.
The Bills defeated the rival Miami Dolphins 32-29 on Saturday night and while it did appear the Dolphins were going to win the game in the third quarter, the Bills came roaring back in the fourth quarter; tying the game with a two-point conversion and then a game-winning field goal by kicker Tyler Bass with no time remaining.
The Dolphins played a near perfect game, especially considering the cold and 4th quarter snowy conditions. The reason the Bills won was because of number 17.
Josh Allen threw four touchdown passes and had 380 total yards. He also dove in for the two-point conversion to tie the game at 29.
Allen was named the AFC offensive player of the week, which is the 10th time he has received that honor. It ties Jim Kelly for the Bills record.
What's even more amazing, and proves why Allen owns the Dolphins right now, is that out of Allen's 10 career starts against Miami since his rookie season, he has won eight of those games and has been named the AFC offensive player of the week for four of those games...
The two losses that Allen has against Miami have both come by one score and in week 3, that loss came in a game where Buffalo outgained the Dolphins by 280 yards.
Josh Allen's best performances routinely come against the two teams Bills fans want to win against the most: the Miami Dolphins and the New England Patriots.
16 Buffalo Bills With Some Of The Best And Worst Nicknames
22 Famous Buffalo Sports Phrases Every Die-Hard Bills and Sabres Fan Knows
Being a sports fan in Buffalo is sometimes like knowing a different language. Here are 22 of our favorite Buffalo sports phrases you already know if you're a huge fan! And if you're new here, here's how to catch up.
15 Things You Should Never Do at a Bills Home Game
Things that are a no-no to do at a Buffalo Bills home game.