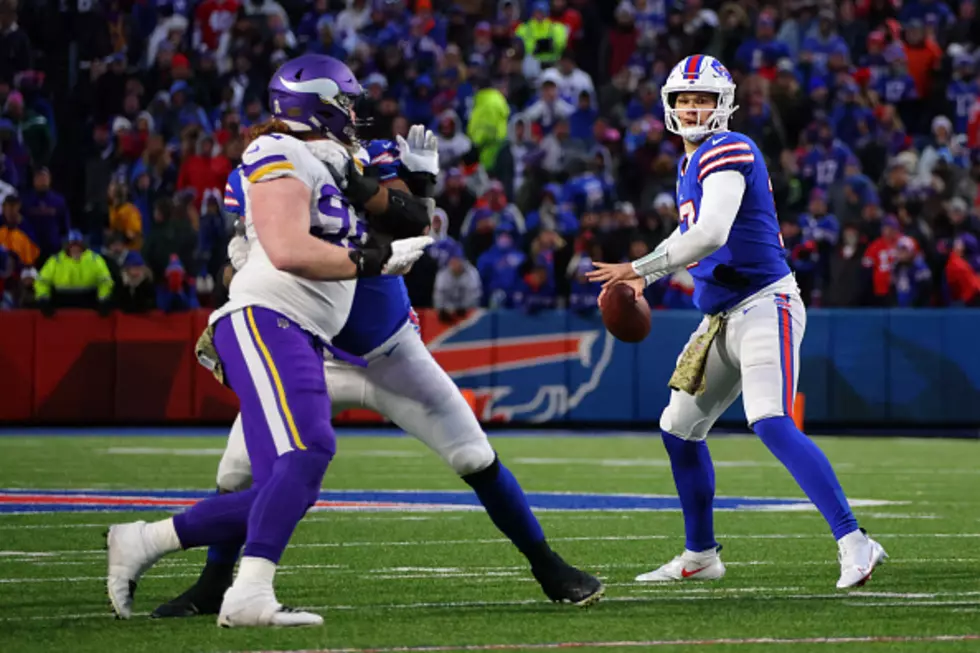 What Josh Allen Should Have Done on the Final Play [VIDEO]
Getty Images
You're hard pressed to find a game where Buffalo Bills fans exited Highmark Stadium as swiftly as they did yesterday, after the Bills 33-30 overtime loss to the Minnesota Vikings.
The Bills were up by 17 points and then 14 points, yet allowed the Vikings to creep back into the game and eventually lose the game in overtime.
What's incredible is the Bills had multiple chances to win. They had Minnesota on a 4th and forever, but the insane catch by Vikings wide receiver Justin Jefferson allowed the Vikings last regulation drive to continue.
Then the Bills stopped quarterback Kirk Cousins on a sneak from the half-inch line, but Bills quarterback Josh Allen fumbled the next snap for a Vikings recovery in the Bills end zone.
The Bills did tie the game and send it to overtime; the defense stood strong when Minnesota was inside the Bills 5-yard-line, and Buffalo looked poised to win the game as they drove deep into the Vikings side of the field.
But Allen's costly interception to Patrick Peterson sealed the defeat.
Allen's insistence to throw the ball into coverage to Gabe Davis has been questioned by Bills Mafia and it's even more head-scratching when Allen had a wide open Devin Singletary, who was releasing from a block out of the backfield.
Looking at the video, it's evident if Josh had waited an extra second, he would have had Singletary for a completion. He likely would not have made it for a first down, but easily a few yards to bring up a much easier third down.
Bills offensive coordinator Ken Dorsey also deserves criticism for yesterday's result. The Bills simply refused to run the ball or call play-action in the second half, even though they were up by three scores at one point.
The Bills may not be a great running team but you absolutely have to utilize it in situations like yesterday's second half.
Best Free Agents Signed By The Buffalo Bills
The Buffalo Bills are gearing up for a run at the Super Bowl next season and some big-time free agents are already reaching out to the Bills looking to join the team. Check out some of the best free agents the Bills have signed in the past.
15 Things You Should Never Do at a Bills Home Game
Things that are a no-no to do at a Buffalo Bills home game.
16 Buffalo Bills With Some Of The Best And Worst Nicknames