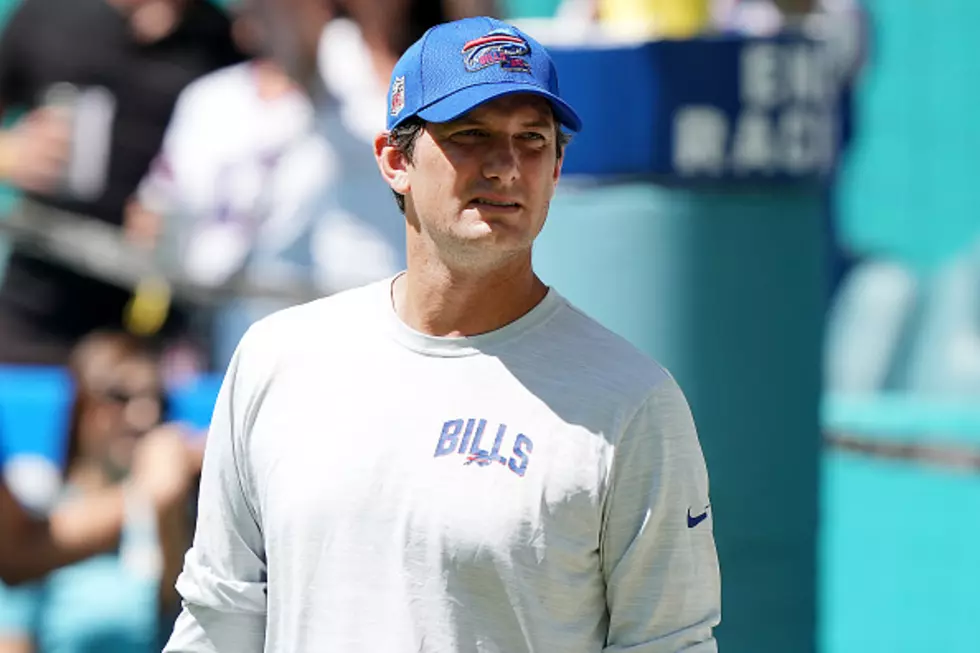 NFL Team Considering Hiring Bills OC Ken Dorsey as Head Coach
Getty Images
The Buffalo Bills are now focused on a third matchup with the Miami Dolphins this season. This game comes in the Wild Card round in Orchard Park this Sunday afternoon. It's the first playoff game between both teams since the 1998 season.
The Bills don't know who they will face at quarterback, with starter Tua Tagovailoa in concussion protocol and backup Teddy Bridgewater nursing a broken pinky.
The Bills offense is going against a Miami defense who was statistically the worst in the AFC East this season, but have given Josh Allen and the Bills problems in the two matchups this season.
Offensive coordinator Ken Dorsey has had some ups and downs this season, but it's been mostly good. Some Bills fans have had an issue with Dorsey's play-calling, but one NFL team had honed in on Dorsey as being a top head coaching candidate.
According to Ian Rapoport of The NFL Network, the Carolina Panthers have requested an interview with Bills offensive coordinator Ken Dorsey.
Dorsey spent seven seasons with the Panthers organization, two as a scout and five as the quarterbacks coach. Dorsey was a star quarterback at the University of Miami and spent six seasons as a backup in the NFL.
It should not be surprising Dorsey is a head coaching candidate. Dorsey's connection with Carolina makes sense and the Panthers for sure would prefer an offensive minded head coach to pair with a new young quarterback.
It's unclear whether or not the Bills would bring in a brand new OC if Dorsey leaves, or they decide on promoting Joe Brady from quarterbacks coach to the offensive coordinator; who ironically, was the Panthers offensive coordinator from 2020-2021.
Complete List Of Buffalo Bills Available On Cameo
16 Buffalo Bills With Some Of The Best And Worst Nicknames
22 Famous Buffalo Sports Phrases Every Die-Hard Bills and Sabres Fan Knows
Being a sports fan in Buffalo is sometimes like knowing a different language. Here are 22 of our favorite Buffalo sports phrases you already know if you're a huge fan! And if you're new here, here's how to catch up.