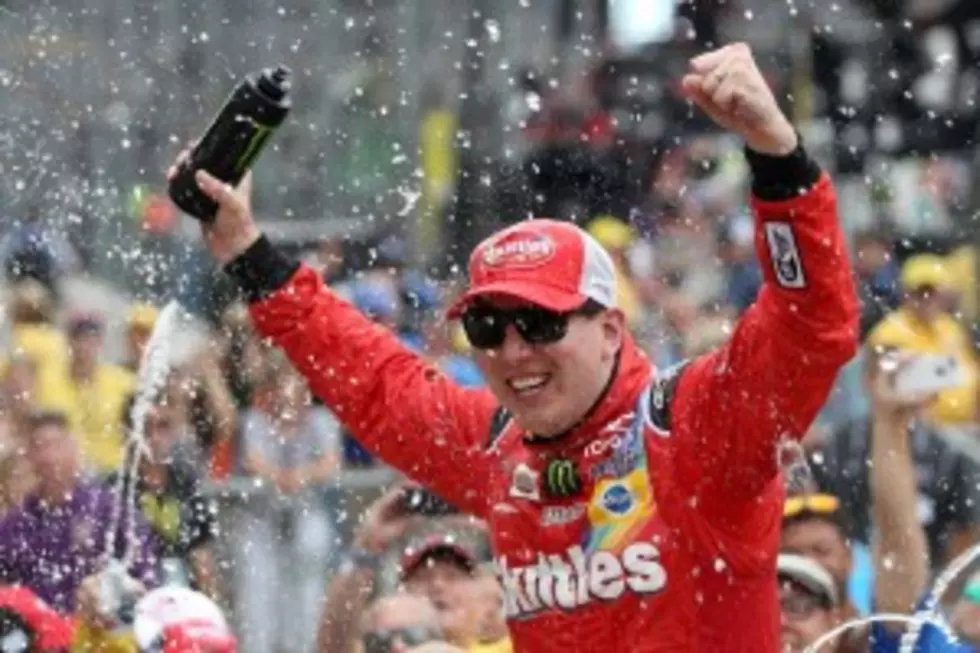 Kyle Busch's Incredible Comeback Continues — Wins Third Straight Race
Kyle Busch celebrates his first Sprint Cup victory at Indianpolis Motor Speedway (Getty Images)
Three straight wins and four victories in the last five Sprint Cup races. Kyle Busch continued his incredible run when he battled his way to the lead, then held off Joey Logano on a green-white-checkered finish on Sunday to complete a weekend sweep at Indianapolis Motor Speedway.  Busch also won the Xfinity race the day before.
Busch took the lead from Kevin Harvick on a restart with eight laps left and kept both Harvick and Logano from getting by him.  Logano finished second while Harvick, Martin Truex, Jr. and Denny Hamlin completed the Top 5.
Continuing a long-time tradition at the Indy Brickyard, Busch and his team gathered at the finish line to kiss the bricks after the race.
Jeff Gordon is the only driver to start all 22 Sprint Cup races at Indianapolis Motor Speedway.  In what will likely be his last race at Indy, Gordon finished 42nd after a crash 50 laps into the race.
With the victory Busch moves up to 32nd place in the Sprint Cup standings, 23 points out of 30th.  To be eligible for the Chase for the Sprint Cup championship Busch must finish 30th or better.  He'll have six more races to do it.  Next up is a return to Pocono Speedway on Sunday.