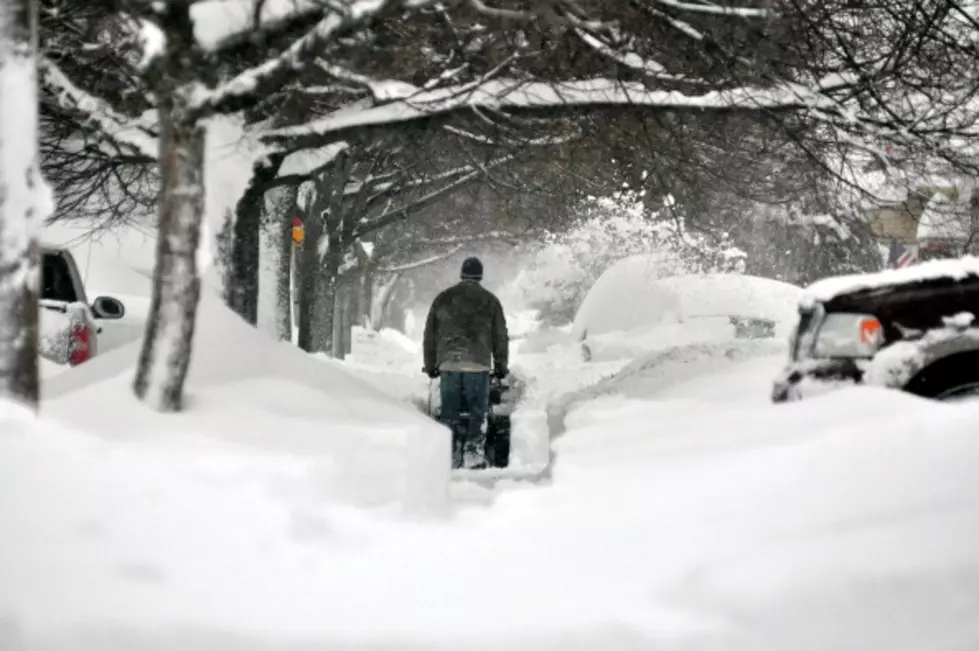 Exact Timeline For the Lake Effect Snowstorm in Western New York
Getty Images
It's almost here; for at least a large portion of Western New York.
The lake effect snowstorm that will impact the vast majority of Western New York and the City of Buffalo, which will see a Winter Storm Warning from 7 pm on Thursday and last until Sunday afternoon.
However, lake snow is already falling at a decent clip in the southern tier and the southern parts of Erie County. All of Erie County and even Niagara County will get in on the action tomorrow evening, with the worst of it being Friday and Saturday.
It's very hard to pinpont exact totals and the timeline of a lake effect snowstorm, just because of how any slight wind direction can alter a lake effect snow band's path.
However, the National Weather Service has now released their detailed timeline of what to expect from Wednesday night into Sunday afternoon.
Tonight, there will be an unorganized band of lake effect snow that will most impact the southern tier and areas by the lake, with 8-12 inches of snow expected for the Dunkirk region.
The lake effect snow loses strength tomorrow but then reorganizes as the winds shift north, which will put lake effect snow into the path of the Buffalo metro on Thursday evening.
Between Thursday night and the end of Friday night, Buffalo and close by suburbs could see as much as three feet of snow when all is said and done, based on these models.
Travel will be dangerous if not impossible on Friday for the City of Buffalo.
Saturday is fascinating because that lake effect snow band shifts north to Niagara County, as Niagara Falls could see 12-18 inches on Saturday.
However, Buffalo, especially north of downtown, could still see accumulating snowfall of 8-12 inches.
Finally, the lake effect snow band moves back over Buffalo and across the southtowns on Sunday and we should be done with the lake effect snow by Sunday evening, for at least the Buffalo metro, southtowns and areas north of Buffalo.
Here's a map of where the snow will be most persistent and it's smack-dab over the Buffalo metro, even extending north of the downtown area.
If you don't have to be anywhere this weekend, just stay home. If you absolutely have to be out, keep man emergency kit inside your vehicle and wear appropriate clothing; with a snow-scrapper, brush and even a small shovel in the trunk.
We could see travel bans or advisories with this snowstorm. Governor Kathy Hochul announced late on Wednesday that the I-90 Thruway would close from Rochester to the Pennsylvania line at 4 pm on Thursday, to prevent motorists from getting stranded and allowing the plows to clear the roads.
Be safe out there.
The Most Buffalo Way To Measure Snow
Buffalo is known for several things, snow, wings, Bills football, and for being a drinking town. So when we measure snow, we do it in the most Buffalo way, using beer cans.
26 Worst Streets To Live On During a Snow Storm
When the snow doesn't let up, it makes you wonder if a plow has shown up — at least once? They most likely have, but nonetheless, these are the worst 26 streets to live on during a snow storm in Western New York.
20 Restaurants In WNY The Food Network Should Feature
We love so many restaurants in Buffalo and The Food Network should highlight way more of them.