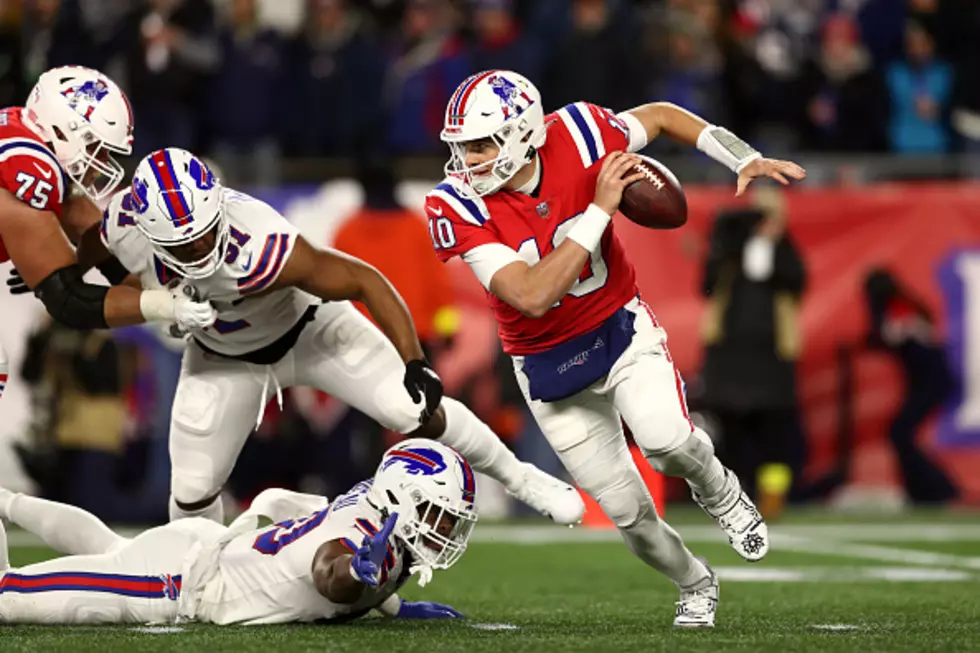 Patriots QB Mac Jones Fined For What He Did to a Bills Player
Getty Images
The Buffalo Bills will host the New York Jets on Sunday, for what will be the first real home game for Buffalo since a month ago, when they hosted the Minnesota Vikings.
The Bills are in first place in the AFC East and the AFC conference, after their 24-10 win last Thursday against the New England Patriots in Foxborough. The Sunday game results (Chiefs and Dolphins loss) put the Bills in first place.
Bills fans had some fans with the Patriots struggled on offense, as New England struggled to move the ball all night.
Patriots quarterback Mac Jones showed visible frustration on the sideline at one point, which he answered to the media after the game.
The NFL also did not appreciate something he did to a Bills player during the game, which earned him a fine today.
The NFL fined Jones over $10,000 for flicking the ball at Bills edge rusher A.J. Epenesa, after Epenesa sacked Jones late in the game.
I took another look at the play and boy, this was a weak fine. Jones did flick the ball at Epenesa but I don't think there was any ill intent there.
This was just one of several fines the NFL lobbied against players and teams on Saturday, including the New Orleans Saints, head coach Dennis Allen and defensive end Cam Jordan, after the NFL determined Jordan and the Saints faked injury to stop play, which the Saints denied.
The NFL is notorious for lobbying fines a week after games, but this weekend may be the most we have ever seen.
Bills Mafia's Wishlist For The New Buffalo Stadium
The Bills are building a new stadium and here is a wishlist from Bills Mafia.
Complete List Of Buffalo Bills Available On Cameo
22 Famous Buffalo Sports Phrases Every Die-Hard Bills and Sabres Fan Knows
Being a sports fan in Buffalo is sometimes like knowing a different language. Here are 22 of our favorite Buffalo sports phrases you already know if you're a huge fan! And if you're new here, here's how to catch up.