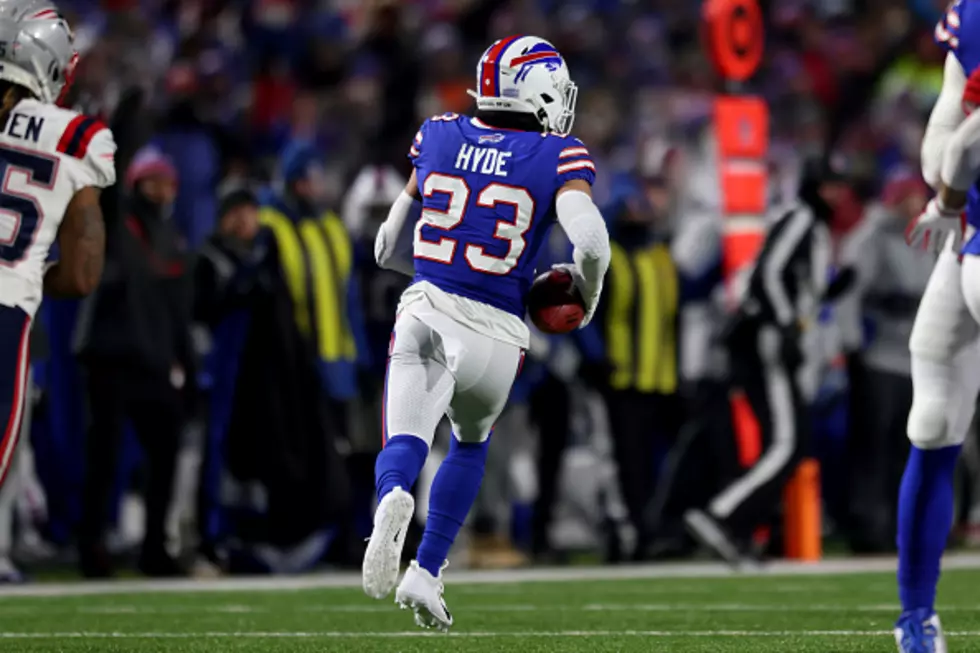 Looks Like Micah Hyde is About to Return to the Bills Lineup
Getty Images
The Buffalo Bills were back at practice on Wednesday, as they prepare for the Miami Dolphins this Sunday in Orchard Park. It's the 2-7 matchup in the AFC playoffs and the first meeting in the postseason for the two teams since 1998.
The Bills won't have to face Dolphins quarterback Tua Tagovailoa, as Miami head coach Mike McDaniel ruled out Tua during his meeting with the media today. That means it's likely rookie third stringer Skylar Thompson who will start, since backup Teddy Bridgewater is nursing a broken pinky finger.
The Bills had their own injury news on Wednesday, but this update was good news.
Bills head coach Sean McDermott announced that both safety Micah Hyde and wide receiver Jamison Crowder are back at practice. Their 21-day window to be activated to the 53-man roster has officially begun.
McDermott added that you should "never count Micah Hyde out."
We have heard rumblings and rumors that Hyde could be back during the postseason and in November, Joe Buscaglia of The Athletic reported that Hyde was eyeing a return this season, back in November. This looks to be something Hyde and the Bills thought all along was possible.
NFL's injured reserve rules are not the "short-term" and "long-term" anymore. You can activate the 21-day window for a player on injured reserve now.
Getting Hyde back against a team like the Cincinnati Bengals or Kansas City Chiefs, if the Bills make it that far, would be gigantic. The Bills played lights out in the first two weeks of the season with Hyde in the lineup and they are a different team with him back there with Jordan Poyer.
Four Bills Players Who Could Leave Buffalo in 2023/2024
Four players that Buffalo Bills general manager Brandon Beane will have to make decisions on.
16 Buffalo Bills With Some Of The Best And Worst Nicknames
22 Famous Buffalo Sports Phrases Every Die-Hard Bills and Sabres Fan Knows
Being a sports fan in Buffalo is sometimes like knowing a different language. Here are 22 of our favorite Buffalo sports phrases you already know if you're a huge fan! And if you're new here, here's how to catch up.