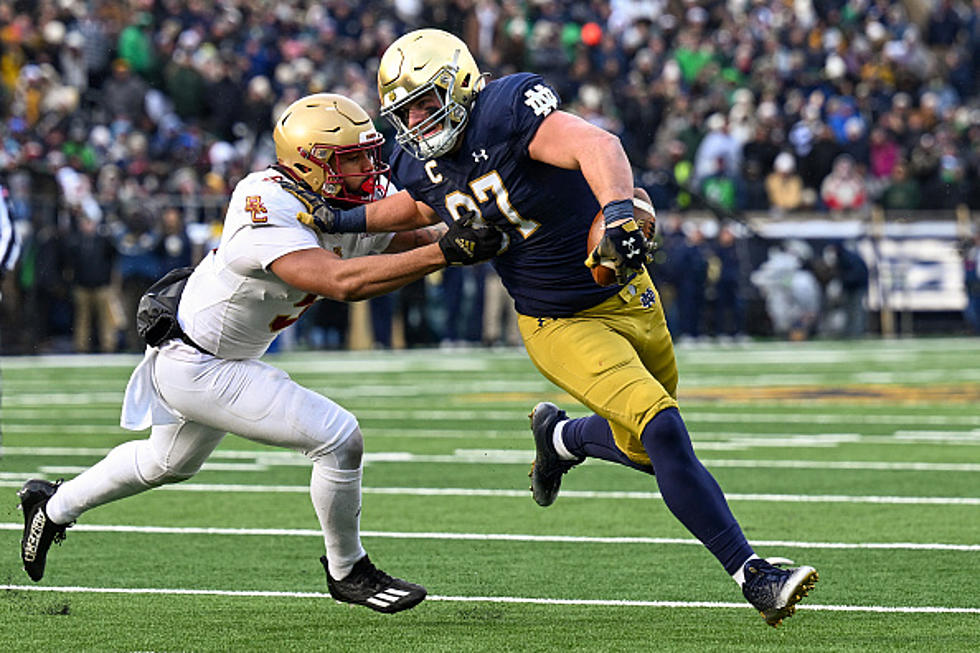 Will the Buffalo Bills Draft a Tight End In The First Round?
Getty Images
The 2023 NFL Scouting Combine is currently being held in Indianapolis at Lucas Oil Stadium. It's annually held to showcase the individual talents of draft-eligible prospects, which all 32 NFL teams attend.
Not only do teams at the combine watch the players during the drills, but they also decide to meet with a select number of them; which typically is a good indication of which players certain teams are interested in drafting.
For instance, the Bills met with Florida cornerback Kaiir Elam last year during the combine and ended up drafting him in the first round.
Again, it doesn't mean the team will draft that player, but always indicates initial interest in a particular player.
Notre Dame tight end and projected first round pick Michael Mayer confirmed that he met with the Buffalo Bills at the combine this week, which raises some eyebrows that the Bills may be considering drafting a tight end early in late April.
We know head coach Sean McDermott and general manager Brandon Beane are big on culture with the Bills (trust the process), and Mayer mentioned that in his meeting with the media in Indianapolis.
Mayer is projected to go anywhere from the mid-to-late first round, but it will be a longshot for him to fall to the Bills. It's hard to imagine him getting past the Detroit Lions or Los Angeles Chargers, but he's entered the chat of players for Bills fans to keep an eye on for pick 27 in the first round.
Former Buffalo Bills That Are Now Playing In The XFL
16 Buffalo Bills With Some Of The Best And Worst Nicknames
22 Famous Buffalo Sports Phrases Every Die-Hard Bills and Sabres Fan Knows
Being a sports fan in Buffalo is sometimes like knowing a different language. Here are 22 of our favorite Buffalo sports phrases you already know if you're a huge fan! And if you're new here, here's how to catch up.