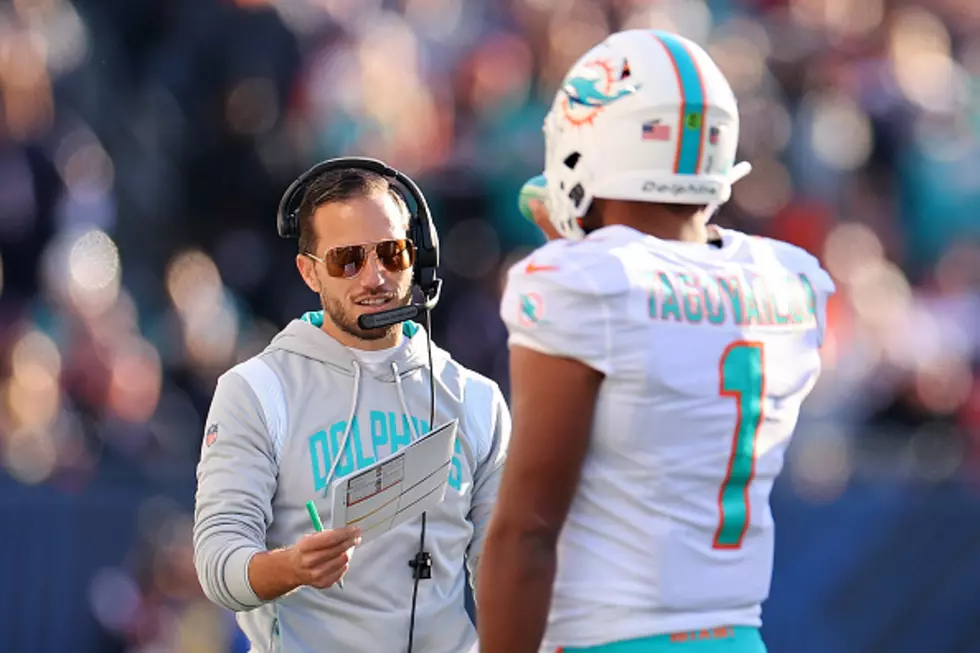 Mike McDaniel Says He's Done Zero Monitoring of Buffalo Forecast
Getty Images
The Buffalo Bills host the Miami Dolphins at Highmark Stadium this Sunday, for what could be an all-time game that we talk about for years to come.
Not only because of the fact both teams are in a playoff position right now, Bills with 10 wins and the Dolphins with 8, but because of the looming forecast for Saturday night in Orchard Park.
A lake effect snowstorm is forecasted to strike the Western New York region on Saturday, with the potential to hit the metro Buffalo but also the south towns (Orchard Park, Hamburg, West Seneca, etc.).
That lake effect snow band could sit directly over the stadium by kickoff; in fact, the forecast says that's where it's most likely to sit on Saturday evening.
It's still too early for snowfall totals, but the potential is certainly there for moderate to heavy lake effect snow; with temperatures in the 20's and wind chills below that even.
As we all know, if it snows as much as it possibly could in Western New York on Saturday night, that would cause this game to look like the 2017 Colts-Bills affair, when another lake effect snow band went over the stadium in the first half.
However, the Miami Dolphins sound unimpressed by the calls for snow, wins and freezing temperatures.
Dolphins head coach Mike McDaniel says he will do "zero monitoring" of the forecast this weekend in Buffalo...
McDaniel added the only way to prepare for it is to "mentally decide if it matters."
I do not coach or play in the NFL, however, as someone who has lived his entire life in Western New York...not monitoring a lake effect snowstorm forecast for anything is not advisable.
I'm sure the Dolphins do have a plan in place if the snow turns as bad as it should, but to say it mentally doesn't matter isn't true.
A heavy lake effect snow band will cripple any passing game, we saw that in 2017. I'm not saying you can't make any downfield throws, but it absolutely destroys the normal game plan approach.
We will see how this unfolds on Saturday.
The Amount Of Forecasted Snow Is Taller Than These Buffalo Bills
26 Worst Streets To Live On During a Snow Storm
When the snow doesn't let up, it makes you wonder if a plow has shown up — at least once? They most likely have, but nonetheless, these are the worst 26 streets to live on during a snow storm in Western New York.
25 Celebrities You Could Meet In Western New York
You have a high likelihood of running into one of these 25 celebrities in Western New York.