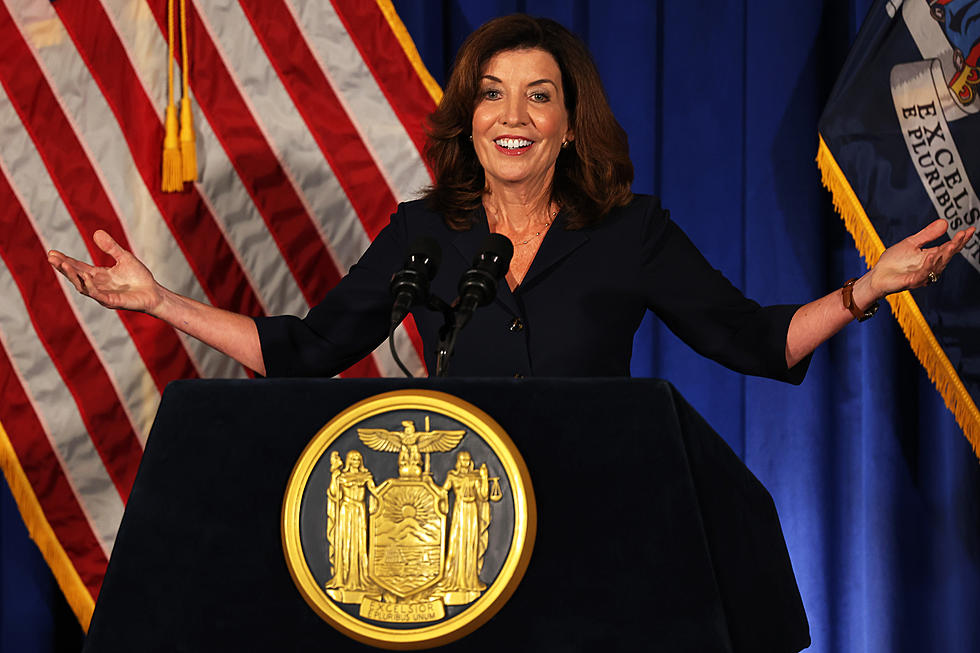 New York Governor Announces Mask Mandate Starting Monday
Getty Images
New York State governor, Kathy Hochul has announced an entire New York State mask mandate. The mandate states that anyone in a public indoor facility in the entire State of New York must have a mask on. The only way a business can opt out of wearing masks for employees and patrons is to have a vaccine requirement.
For the record: There were over 11,000 new COVID cases in New York State yesterday (Thursday, December 9).
New York State is now the 4th state in the United States of America to have an entire state mask mandated. This will start next week on Monday December 13th and last through January 5th is January 15th, 2022. Once this time frame is over the governor will reassess the COVID-19 pandemic situation here in New York State.
"My top 2 priorities are to protect the health of New Yorkers and to protect the health of our economy. The measures I'm unknown the measures I'm announcing today will help accomplish this through the holiday season", Governor Hochul wrote on Twitter.
Erie County is already currently under a mask mandate per Erie County executive, Mark Poloncarz. There was resistance against Mark Poloncarz and the mask mandate that he implemented back in November from some business owners. Some restaurants and bars decided to just ask patrons for their vaccine cards to check that they are fully vaccinated.
In New York City, Governor Hochul announced that they were giving a ticket giveaway to go see the Rockettes Christmas Spectacular for the first 50 people who get their COVID-19 booster shot at these five locations in New York. Here is the information from the New York State website:
Vouchers can be redeemed for tickets for 2 people to the Christmas Spectacular performances on Dec. 20 at either 5:00 p.m. or 8:00 p.m.
Vaccination sites providing vouchers include:
-Yonkers Public Library, Yonkers, Dec. 9 from 12:00 p.m. to 7:00 p.m.
-Christ Fellowship Baptist Church, Brooklyn, Dec. 11 from 10:00 a.m. to 2:00 p.m.
-Grace Baptist Church, Mount Vernon, Dec. 11 from 10:00 a.m. to 2:00 p.m.
-Bethel AME Church, Freeport, Dec. 12 from 11:00 a.m. to 4:00 p.m.
-Queens Museum, Queens, Dec. 15 at 10:00 a.m. to 4:00 p.m.
Top 5 Christmas Songs That Make Every Western New Yorker Cry
Here are the top 5 Christmas songs that are most likely to make a Western New Yorker cry.
Rapid COVID Test Site In Orchard Park