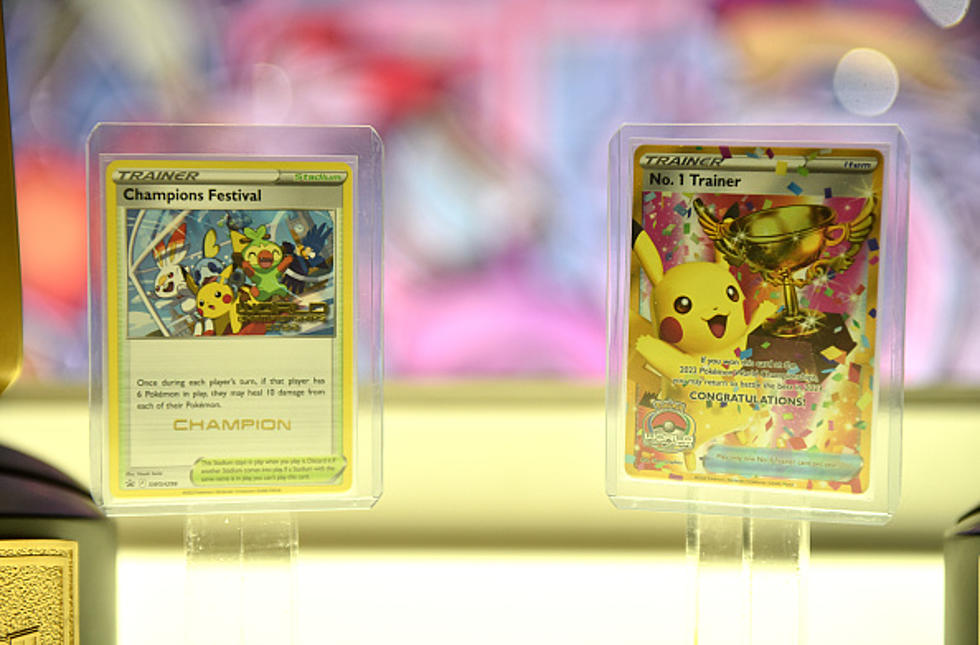 Value Of These Pokemon Cards Soaring In New York State
Getty Image
The weekend is here and for some families that may mean it is time to clean house. Perhaps you have kids that will be graduating from high school this year or have grown out of their toys and games and it is time to purge things around the house? There may be some good news.
There are countless stories about people who buy things from a yard sale for a low price and resell them for a profit. The saying that "one person's trash is another's treasure" is very true. If you have the right eye for these things or have the knowledge about resale value, you can make a good buck after a trip to a yard sale.
But just which cards are the ones that are fetching the most money here in New York State? If you were to take a quick peak at your kid's collection, what cards may be worth the most?
According to moneymade.io :
Since the Pokémon company introduced Pokémon trading cards in 1996, prices for first-edition cards have appreciated by over 10,000%.
There are certain cards that grab more than others. For example, the article states that Pokemon POP Series 5 Espeon Gold Star can get as much as $20,000 for the right buyer!
As for the new cards gaining value and the shortage, Pokemon said the following on their website:
Thank you for your continued patronage of our products.
We are currently out of stock of all "Pokemon Card Game" products. We sincerely apologize for the inconvenience caused to customers who were unable to purchase.
KEEP READING: 10 classic board games that will take you way back
The Cast of 'Friends': Then & Now
30 famous people you might not know were college athletes
Stacker
dug deep to find 30 celebrities who were previously college athletes. There are musicians, politicians, actors, writers, and reality TV stars. For some, an athletic career was a real, promising possibility that ultimately faded away due to injury or an alternate calling. Others scrapped their way onto a team and simply played for fun and the love of the sport. Read on to find out if your favorite actor, singer, or politician once sported a university jersey.