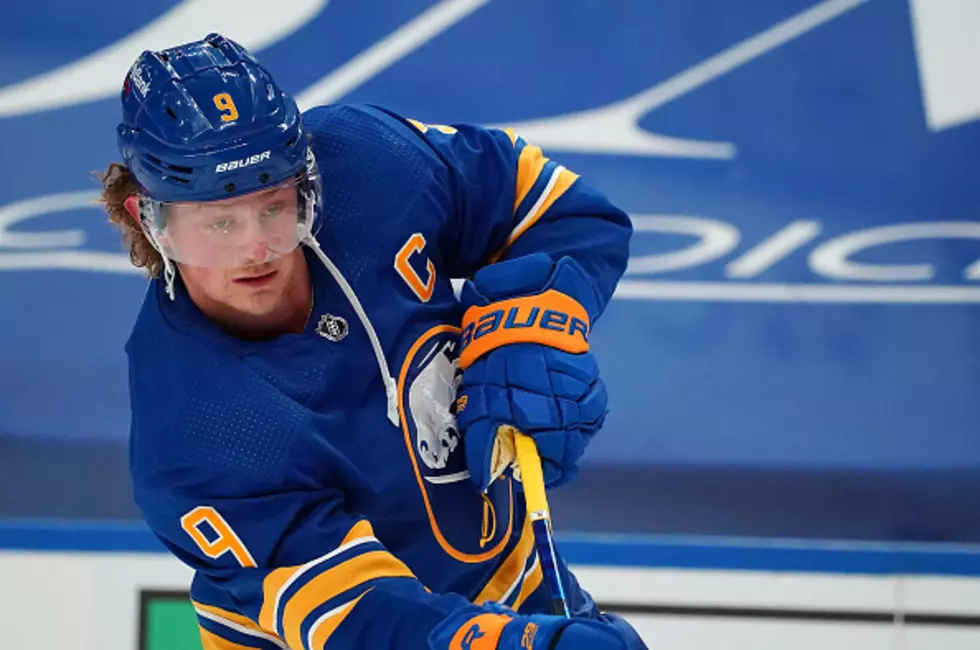 Report: Two Teams Are Finalists For Buffalo Sabres' Jack Eichel
Getty Images
The Buffalo Sabres have dropped the last two games on their west coast road trip after winning the first game of the trip.
Buffalo lost in San Jose last night against the Sharks, by a score of 5-3. Forward Jeff Skinner scored two goals in the loss.
Sabres fans have been a bit more interested in news off the ice, however. That of course is in regard to former captain, Jack Eichel and his ongoing trade saga.
Eichel wants out of Buffalo and said back in May there was a disconnect between he and the franchise. Eichel's injury has severely complicated the matters though, since he needs surgery to repair his injured neck.
The Sabres want him to get a disc fusion surgery, while Eichel and his medical team want ADR (artificial disc replacement). The Sabres trade demands for someone as good as Eichel adds to the fact he has yet to be dealt.
But it appears (for real this time) this saga will end very soon.
According to ESPN's Emily Kaplan, who appeared during the first intermission of Sabres-Sharks last night, there are two finalists to acquire Eichel: the Calgary Flames and Vegas Golden Knights.
Both teams will let Eichel get his preferred surgery. The trade talks are "at the 1-yard-line" according to Kaplan, and it's just a matter of either team reaching Sabres GM Kevyn Adams' full trade demands.
Both Calgary and Vegas are in the Western Conference, which would be ideal for the Sabres -- trading a star like Eichel to the west and only having to play him a limit number of times.
Now, we just wait to see what the return is...
Buffalo Sabres Goalie Masks
Buffalo Sabres Captains Since 2000
CHECK IT OUT: 100 sports records and the stories behind them
ALSO: Former Minnesota Twins All-Star's Home for Sale - Complete With Brewery