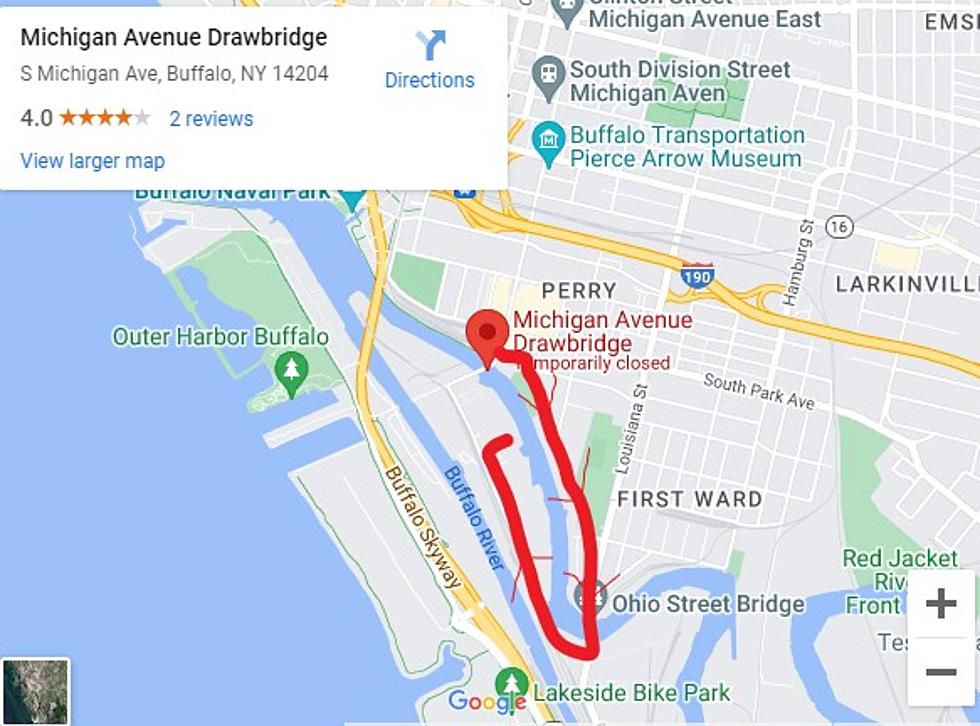 Brand New Way to Get To Riverworks in Buffalo, New York
Google Maps
If you are going down to Riverworks to do any drinking, kayaking or attending any events, you are going to want to know that there is a brand new way that you MUST take to get to the venue.
At least for the next few months, the common way of getting to the popular Buffalo venue on Ganson Street, was to go over the Michigan Ave. lift bridge, but for ANOTHER summer, The Buffalo Department of Public Works, Parks and Streets is shutting it down. This time crews will be working on the cables on the bridge.
It is closed to both pedestrian and vehicle traffic for repairs. The closure was set to happen before Memorial Day, but was pushed back a week to allow for travel for the busy holiday weekend.
As, you can imagine, Riverworks isn't thrilled with the constant work, especially during the busy Summer months.
How much are the repairs on the bridge going to cost?
The $800,000 Michigan Avenue Lift Bridge project – fueled with federal, state and local funding from the Transportation Improvement Program – will rehabilitate concrete abutments, replace timber fenders and repair timber dolphins.
Did you know that Riverworks is actually on an island?
It called Kelly Island. There are actually several businesses--Riverworks, General Mills' production facility, Wonder Coffeehouse and Grand Lady Cruises.
Here is why we call it Kelly Island in Buffalo
Kelly was the last name of 2 brothers who owned the island many years ago. The brothers were settlers and leaders in Cleveland. They settled in Cleveland before purchasing the island in Buffalo, New York.
What about Ganson Street? What is Ganson Street named after?
Ganson Street was named for Congressman John Ganson, whose family was from WNY. He graduated from Harvard at age 19.
Incredible Basement at Million-Dollar Home in Clarence
This million-dollar home for sale in Clarence could have the nicest first floor in all of Western New York.