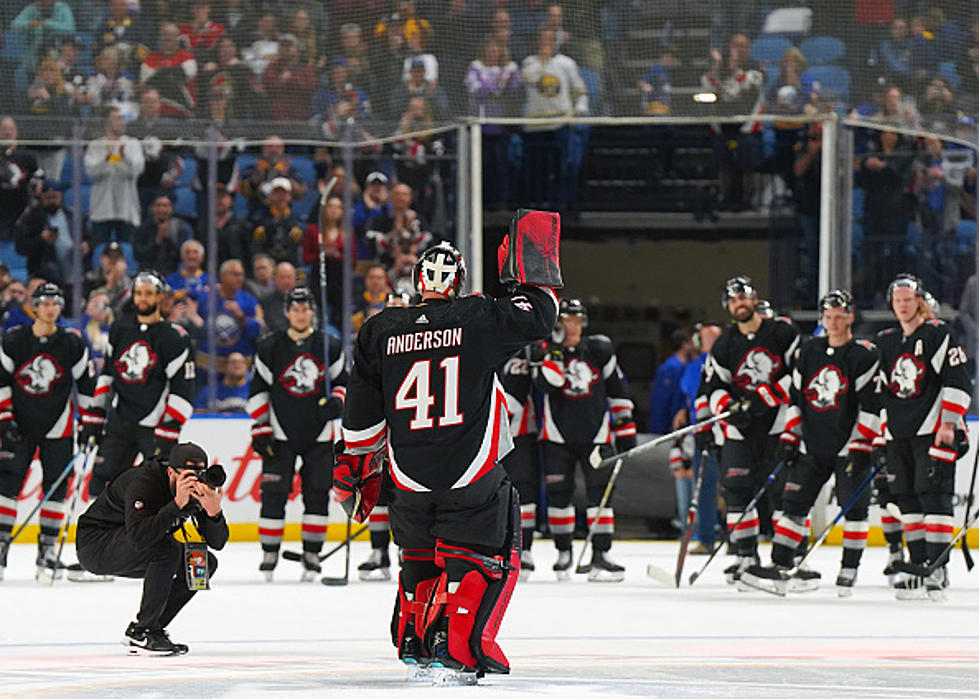 The Buffalo Sabres Had a Crazy Spike in Attendance This Season
Getty Images
The 2023 NHL playoffs are underway and the first night was amazing, especially the two late games: Minnesota Wild over the Dallas Stars in double-overtime and the Los Angeles Kings' comeback against the Edmonton Oilers, also in overtime.
Still, it's tough watching the playoffs since the Sabres would have made it if they had won just one more game.
Buffalo missed the postseason by two points and would have broken the now 12-year playoff drought had they had a number of things happen.
The two long losing streaks never happened, Devon Levi had arrived a week or two earlier, or the Hudson Fasching kick-goal had not counted...would've, could've, should've.
However, the future is bright. Most Sabres fans believe the team is on the right track and they also have produced arguably the best collection of prospects in the NHL.
That optimism and better play produced a drastic increase in attendance at KeyBank Center this past season.
The Sabres attendance went up nearly 56% in 2022-2023, compared to 2021-2022...
The Ottawa Senators are the only team with a better attendance increase but after Buffalo, you have to go to the Montreal Canadiens at 36% for the next best increase in overall attendance.
It was evident after the holidays that the arena was more full. There were even a few games that looked sold out or near capacity, which was such a great thing to see and feel while watching the Sabres. It's a drastically different feeling in KeyBank Center when the arena is full and Rasmus Dahlin even said they play better when that happens.
The black and red goathead jersey games always had a packed house. That's likely why Buffalo only lost one game while they wore those jerseys this season.
Buffalo Sabres Goalie Masks
Take a look at some amazing Goalie Masks in Buffalo Sabres history.
Top 10 Most Underrated Buffalo Sabres of All-Time
22 Famous Buffalo Sports Phrases Every Die-Hard Bills and Sabres Fan Knows
Being a sports fan in Buffalo is sometimes like knowing a different language. Here are 22 of our favorite Buffalo sports phrases you already know if you're a huge fan! And if you're new here, here's how to catch up.