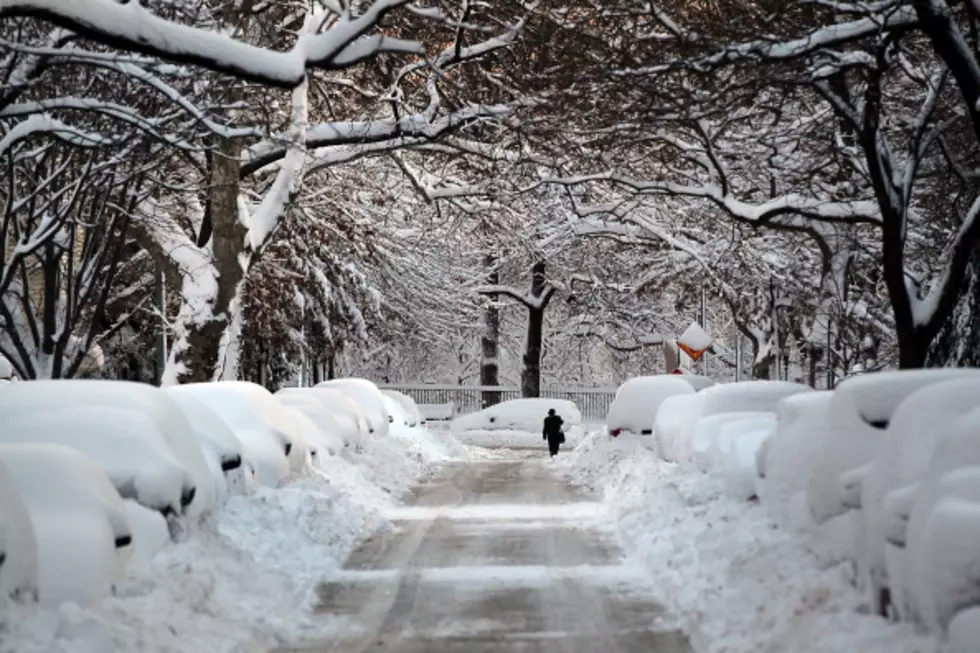 Snow Could Pound All of New York State Later This Week
Getty Images
Sunday provides a change in the weather pattern for New York state, especially if you live off Lake Erie or Lake Ontario. The temperatures in the 40's likely won't be around for a while.
The highs won't escape the mid-30's and snow will blanket regions into Monday, especially for those who live in the southern portion of New York state.
However, Sunday and Monday is the lighter system of the two that is coming this week for New York. There's a system on Wednesday and into Thursday that will bring even more snow to many regions across the state.
Meteorologists are watching weather models that show a wide-impact of rather significant snowfall on Wednesday and extending into Thursday.
The Euro model on Saturday was showing anywhere from 5-11 inches of snow for the vast majority of New York state.
Sunday's real-time model shows slightly less totals but as you can see, this system covers the entire State of New York.
There's also the threat of lake effect snow after the system moves through, as mentioned by WIVB.
Right now, it appears Wednesday afternoon and evening is the time to watch for. Travel could be more difficult, with worsening road conditions. This is not a system that will bring horrible conditions, but enough snow where some plan-altering could be in store.
Highs are expected to be in the 20's next week for some spots in New York, including Western New York.
The first three weeks of January were relatively easy and it looks like Old Man Winter is finally bringing that cold and snow we have been dreading.
21 New York State Counties With The Most Horrendous Commute Times
Have you ever stopped and added up how much time you spend behind the wheel? What are the worst commute times for counties across New York State?
How bad do we REALLY have it in New York State when it comes to our commute times? According to The
U.S. Census Bureau
, the national average for a one-way commute to or from work is 26.9 minutes and 9.3% of workers nationwide have a one-way commute of 60 minutes or more. Here in New York State, the mean travel time to work in minutes for workers age 16 years+ between 2016-2020 was around 33.5 minutes.
Which counties across the state are the worst?
26 Highest Paying Jobs in New York State
It's getting harder and harder to make ends meet living in New York State. So we researched the 26 highest paying jobs in the state. Hudson Valley Post analyzed the most recent data from the
U.S. Bureau of Labor Statistics
to craft our list.
25 'Safest' Hometowns in New York State