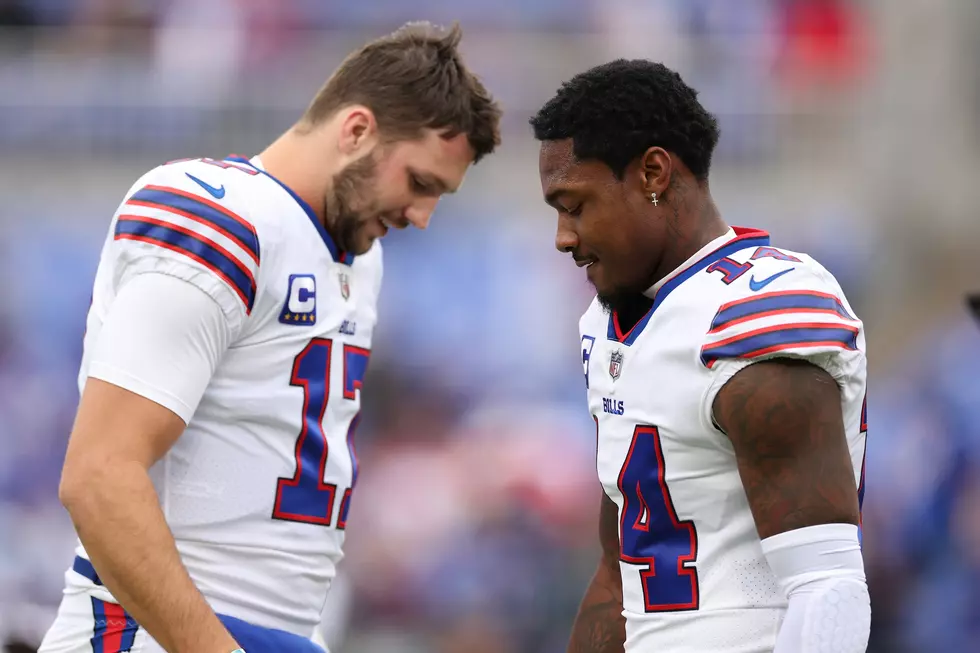 Stefon Diggs Has Emotional Words for Josh Allen [VIDEO]
Getty Images
The Buffalo Bills franchised turned around in April of 2018, when the team selected Wyoming quarterback Josh Allen with the 7th overall draft pick in the NFL Draft.
Having both head coach Sean McDermott and general manager Brandon Beane came into the fold in 2017 and the first ever draft pick by Beane was Allen in 2018.
Despite the Bills being an up-and-coming team in 2019, Beane and the front office knew they had to get that clear number one wide receiver for their young quarterback.
That was Stefon Diggs.
Diggs was traded from the Minnesota Vikings to the Bills in March of 2020 and it's been a match made in heaven, as Diggs set Bills franchise records in receptions (127) and receiving yards (1,535) in his first season and had another great season in 2021.
Diggs is on pace for 130 catches this season, which would break his franchise record in 2020 and is a gigantic part of the Bills success as is Allen's.
Both Allen and Diggs have said how close they have become and that they're almost like brothers to one another. Allen said this as recently as Tuesday on "Kyle Brandt's Basement," when talking about their relationship.
On Wednesday, the Bills and the NFL posted a video of pregame warmups on Thanksgiving from last week. Diggs told Allen, "Happy Thanksgiving."
Allen replied "Happy Thanksgiving," which prompted Diggs to reply "I'm thankful for you."
After a short pause, Diggs then says to Allen, "you'll never know how much."
It's pretty amazing that they have been such a good match in Buffalo.
The Bills run a pass-first style of offense and it has been everything Diggs has hoped for, showcasing his talents and if it keeps up, it's not far off to assume he and Allen are future Pro Football Hall of Famers.
Buffalonians Would Hate To See Josh Allen Endorse These Companies
Complete List Of Buffalo Bills Available On Cameo
22 Famous Buffalo Sports Phrases Every Die-Hard Bills and Sabres Fan Knows
Being a sports fan in Buffalo is sometimes like knowing a different language. Here are 22 of our favorite Buffalo sports phrases you already know if you're a huge fan! And if you're new here, here's how to catch up.