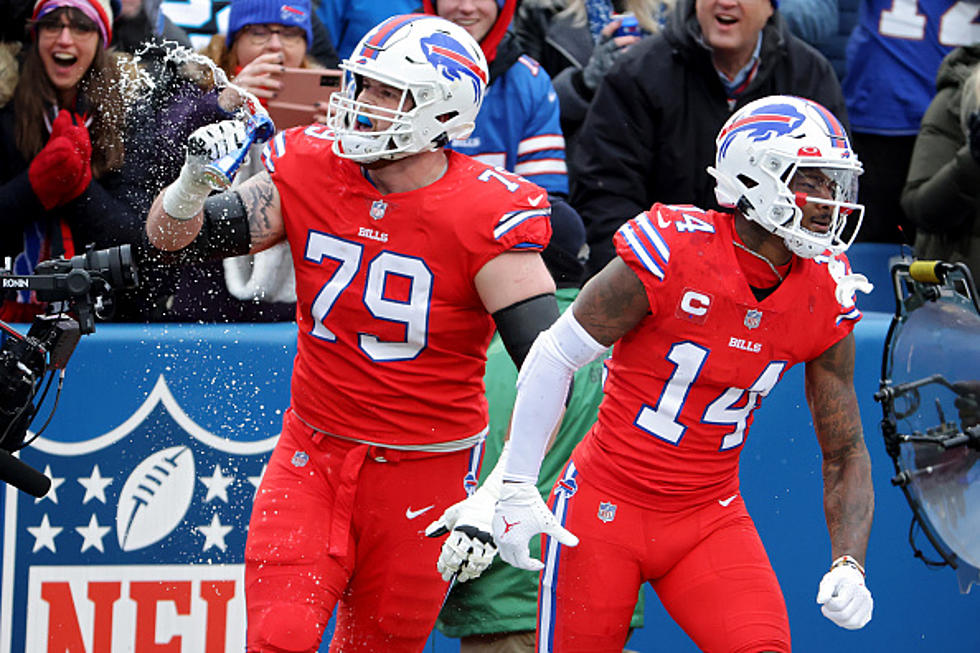 Stefon Diggs Spilt a Bills Fan's Beer On Sunday; Now, He's Asking Help To Find Him
Getty Images
The Buffalo Bills had a game that Bills fans wanted yesterday -- a 31-14 win over the Carolina Panthers at Highmark Stadium in Orchard Park.
The game had a few hiccups for the Bills on offense, but overall, a good showing from both sides of the ball and gets the Bills record to 8-6 with a hugely important game next Sunday against the 9-5 New England Patriots. If the Bills win, they take control of the AFC East, and if the Patriots win, they take a two-game lead. It essentially will decide who wins the division in 2021, with just two games left for both teams after that.
However, while the Bills have eyes on the Patriots next Sunday, wide receiver Stefon Diggs also wants to make sure that he helps out one fan from yesterday's win against the Panthers.
After Diggs scored a touchdown to make it 14-0, he and rookie right tackle Spencer Brown went to the stands and grabbed a Bills fan's beer and proceeded to celebrate by having some.
The video and photo went viral on Twitter.
Now, Diggs wants to buy the fan a beer, after he and Brown spilt his.
This is amazing. That Diggs went to the trouble to try and find this fan, so he could personally buy him a beer. I mean, those stadium beers are not cheap!
According to the thread, the man's name is Richard Donohue, but he's not on social media.
How cool is all of this? It's definitely one of the stories of the year in Buffalo and the Bills season.
Bills Back On Track With Win Over Carolina [PHOTOS]
The Bills blew out the Carolina Panthers on Sunday 31-14. Enjoy a photo recap of the game.
The Bills 2022 Opponents We Know Right Now
Here's who we know the Bills will play at home and away in 2022.
CHECK IT OUT: 100 sports records and the stories behind them