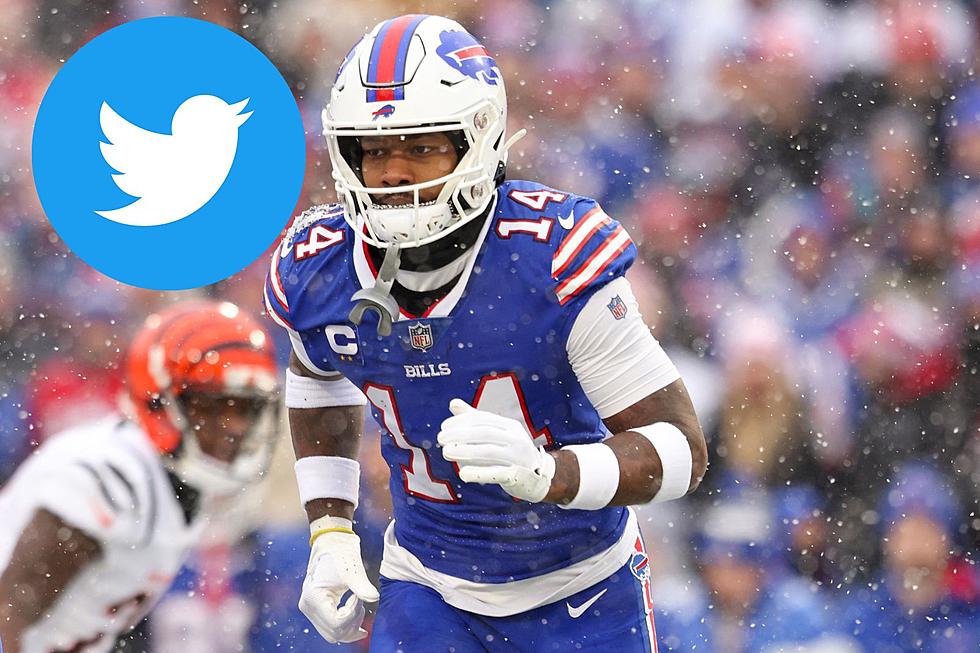 Another Stefon Diggs Twitter Rumor Has People Freaking Out Today
(Canva)
Stefon Diggs was trending again today on Twitter.  There was a rumor going around that has people wondering if something happened with him and the Bills...again.
For More From Brett Alan Click Here
These things tend to happen just about every year now with Diggs.
What is the rumor that got people fired up?
The rumor was that Diggs had unfollowed the Bills and a bunch of his teammates and that he had followed the Dallas Cowboys.  It's not a new thing that people believe Stefon Diggs is trying to get out of Buffalo to go join his brother in Dallas playing for the Cowboys.
They said that he had scrubbed his social media of all of the pictures of him with the Bills.
Is the Stefon Diggs rumor true?
Here's the thing...just by checking out his pages quickly, you'd see that it's true he unfollowed the Bills on Instagram, but he still follows them on Twitter (which is where I saw this story at first).  The first thing you see on his Twitter page is a picture of him in his Bills helmet.
Also, he tends to scrub his entire Instagram page just about every year.
If you take an extra second to look at the people that he follows, you'll see that he still follows the Bills, Josh Allen, and a bunch of other Bills still on Twitter.
That's how these things get spread!  Just take a second and look it up.
How can you be so sure he isn't going anywhere?
It would be a huge loss to the Bills in many ways if they decided to try to get rid of Stefon Diggs.  First of all, they would lose their #1 wide receiver.  That's first and foremost one of the biggest reasons why they wouldn't want to get rid of him.  As Chris Owen points out, it would also cost them a huge amount on the cap.  There would be a ton of money in dead cap space!
It makes 0 sense to get rid of Diggs this year.
Quiz: Did This Guy play for the Bills?
Best Free Agents Signed By The Buffalo Bills
The Buffalo Bills are gearing up for a run at the Super Bowl next season and some big-time free agents are already reaching out to the Bills looking to join the team. Check out some of the best free agents the Bills have signed in the past.
6 Buffalo Bills Greats That Didn't Look Right In A Different Uniform
Unfortunately, sometimes your favorite player leaves your team and when you see them it just looks weird. Here are five former Buffalo Bill greats that just look weird wearing a different team's jersey.