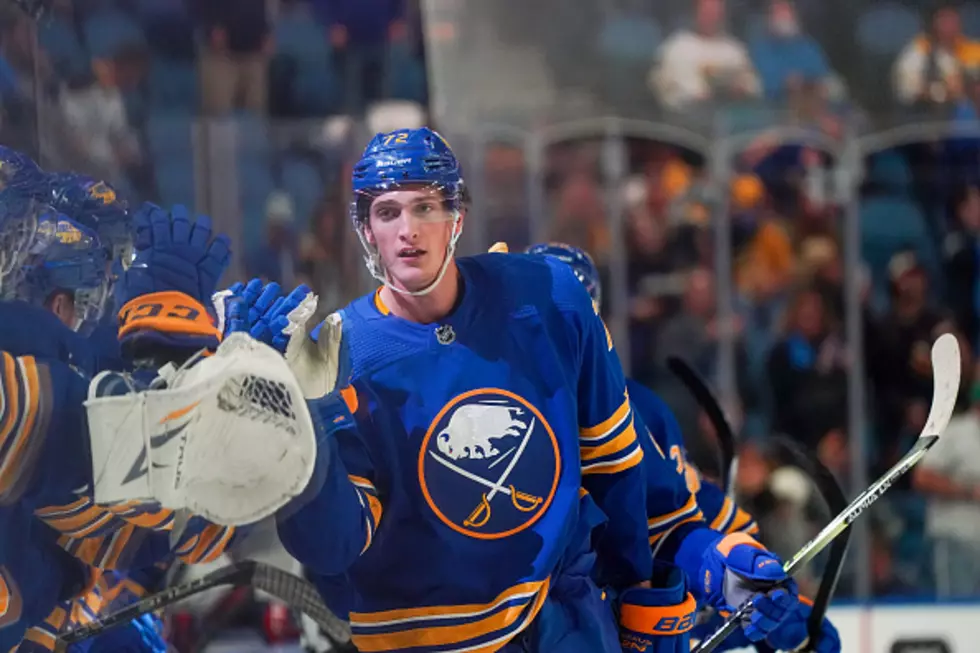 Sabres Star Chooses Famous Country Song For His Goal Song This Season
Getty Images
The Buffalo Sabres drop the puck on another regular season tonight.
The Sabres host the Ottawa Senators at KeyBank Center at 7 pm. The game will kick off the 2022-2023 regular season for Buffalo, in what is a more optimistic campaign for Sabres fans.
While Buffalo is more likely to be a year away from being a playoff contender, the youthful, skilled roster has fans very excited.
Rasmus Dahlin, Owen Power, Mattias Samuelsson, Dylan Cozens, JJ Peterka, Jack Quinn, Peyton Krebs and Tage Thompson are young players who fans are most eager to see this season.
The Sabres players every year pick their goal songs, which means every time they score, that song will play at KeyBank Center before the puck is dropped at center ice.
The Sabres unveiled this season's goal song selections by the players and the player who is expected to score the most goals this year, picked one of the most famous country songs.
Sabres forward Tage Thompson's goal song for the 2022-2023 season is "Fishin' in the Dark" by the Nitty Gritty Dirt Band.
"Fishin' in the Dark" was a huge number one hit for the Nitty Gritty Dirt Band in 1987 and other than Dylan Cozens picking 'Loud" by Tim Hicks (Canadian country artist), it's the only country song listed.
I love the fact it's not just a country song from the last year or two -- it's a famous country song from the late '80s and is such a fun sing-along.
Hopefully, Tage scores 50 goals this season.
Top 10 Most Underrated Buffalo Sabres of All-Time
Buffalo Sabres Goalie Masks
The 25 Perfect Fall Restaurants in Western New York
The best restaurants during the fall in Buffalo and Western New York.