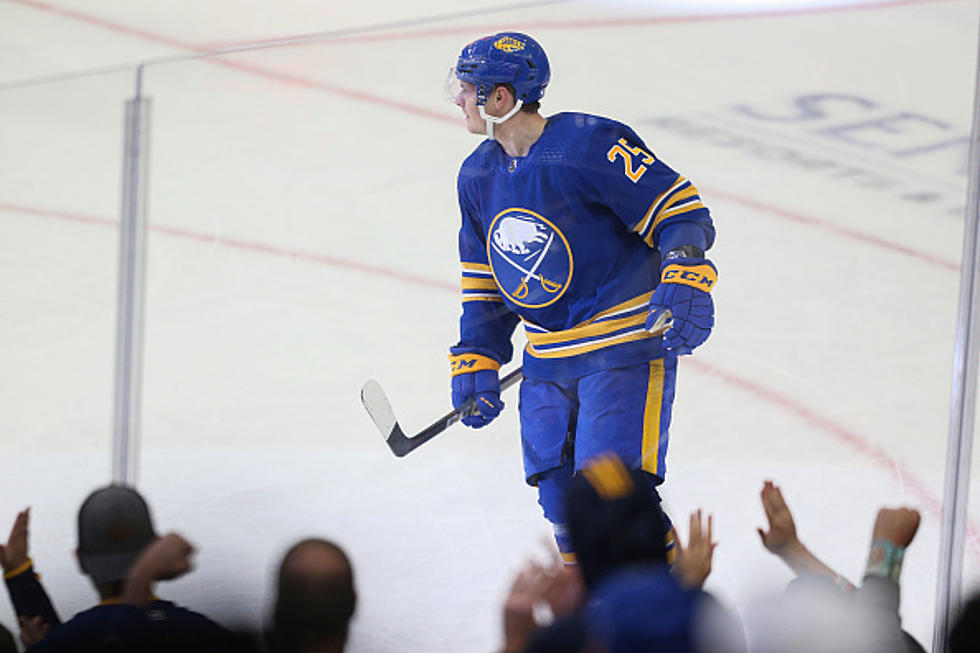 The Buffalo Sabres Did Something Absolutely Crazy Last Night
Getty Images
The Buffalo Sabres have had an okay start to the 2021-2022 season. They're floating around .500, but they certainly look like a team that is better than last season's dismal club; plus they're pretty fun to watch (other than last Thursday night against Calgary).
This past Sunday's game against the New York Rangers was perhaps the most entertaining game of the season. The game's second period featured four goals in less than 90 seconds -- two by each team.
Unfortunately, the Rangers scored the game-winning goal with just 0.4 seconds remaining in regulation, which is just about as devastating a loss as you can have in the NHL.
What's even more rare is having a goal scored on you with 0.4 seconds left in regulation...then, your team scored with 0.4 seconds remaining in the first period, the very next game -- heck, the very next night.
That's precisely what took place on Monday night against the Columbus Blue Jackets. The Sabres scored a goal with just 0.4 seconds remaining in the first period against the Blue Jackets, which is the exact amount of time the Rangers scored against Buffalo on Sunday night.
You cannot make this stuff up.
The goal was credited to forward Zemgus Girgensons, who redirected a shot by defenceman Colin Miller.
That has to be a 1 in a million chance. There's no way that's ever happened before in NHL history -- a goal scored against you with 0.4 seconds left and then you score with 0.4 seconds left the very next game.
Maybe it will happen next game as well?
Buffalo Sabres Captains Since 2000
Buffalo Sabres Goalie Masks
Take a look at some amazing Goalie Masks in Buffalo Sabres history.
Step Inside This $15 Million Mansion In The Finger Lakes
Huge Clarence Center Home Has Its Own Lake and Bar
This $1.2 Million Home In Lancaster Has The Nicest Kitchen In WNY
We cannot believe how huge and gorgeous this Lancaster home's kitchen is!