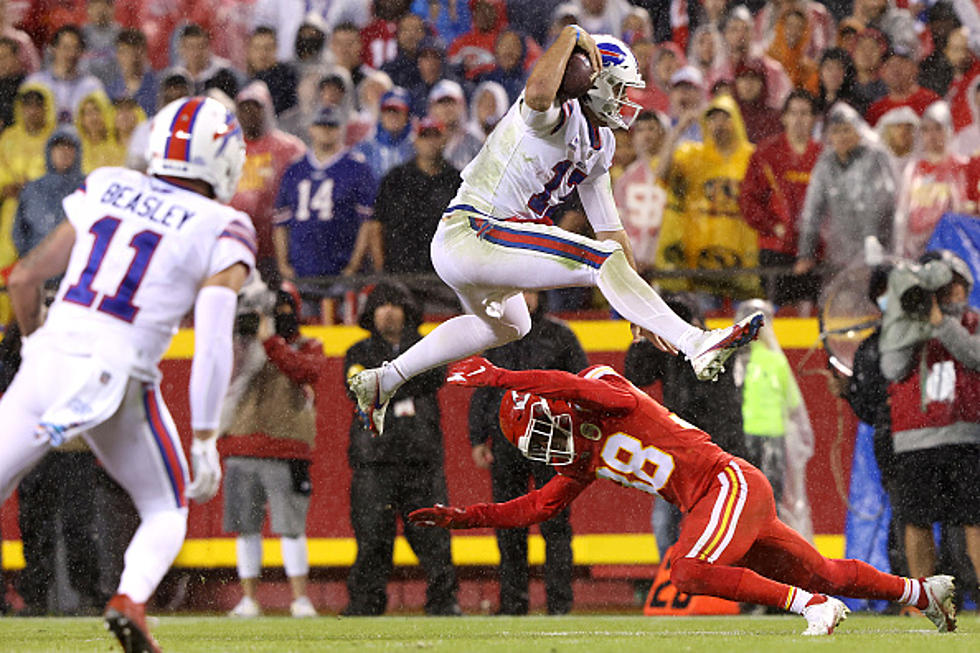 The Christmas Tree-Topper All Buffalo Bills Fans Want [PHOTO]
Getty Images
This past week and the week to come is the most popular time of the year for people to go get their Christmas trees...real ones, of course. Those who use artificial trees likely have theirs up by now.
Whichever way you decide to go for the type of tree, everyone has their favorite ornaments to decorate with. Some have been passed down for generations, while others fit a person's personality, like if you're a Bills fan.
Many Bills fans in Buffalo have Bills-themed Christmas tree ornaments, but what about a Bills-themed tree topper?
That has become a thing, and there's a new Bills tree-topper that is a must-have for Bills Mafia.
Remember when Josh Allen leaped over the Kansas City Chiefs cornerback earlier this season? Now, you can get that has a tree-topper for your Christmas tree!
I was doing some searching this morning, and asked if anything like this existed.
It's cool to know that Bills Mafia is on top of things like that. I'm not sure how mu fiancée would react to something like this being at the top of our tree, but maybe she wouldn't notice if I simply replaced our star with Josh?
As for the Bills on the field, they play the New England Patriots at Highmark Stadium for Monday Night Football next week. Whoever wins gains sole control of first-place in the AFC East.
The Bills will be without cornerback Tre'Davious White, who is out for the season after tearing his ACL against the New Orleans Saints on Thanksgiving night.
7 Christmas Gifts Perfect For Buffalo This Year
Here are the perfect seven gifts for Buffalonians this Christmas.
Amazing Photos From The Start Of The Bills Season
The Bills headed into their bye week with a 4-2 record on the season.
31 Things That People Who Love Christmas Do In WNY Every Year
29 Things That Make Buffalonians Happy
What Makes Buffalonians Happy