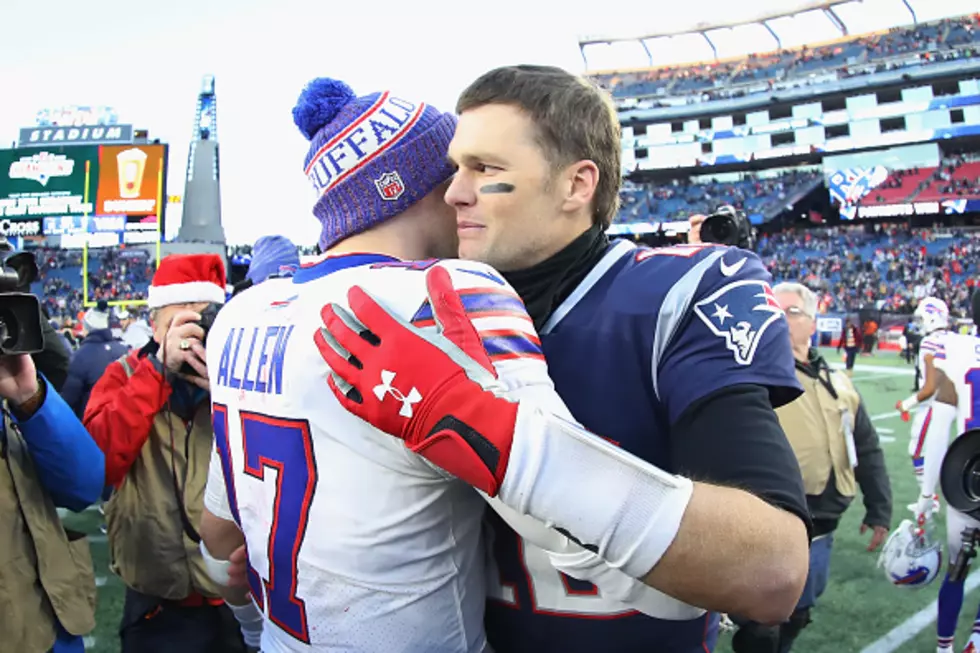 Tom Brady Gives Love to Bills QB Josh Allen on Retirement Day
Getty Images
By now, you probably know the news of Tom Brady announcing his retirement for second time.
On Wednesday, the 45-year-old future Hall of Fame quarterback announced his retirement from professional football. It comes exactly one year to the day of when his first retirement was announcement.
Brady holds the top spot on nearly every major statistical category for NFL quarterbacks, including seven Super Bowl victories and playing in nine of them in total.
Brady made the announcement on social media and when it comes to his Instagram account, it was followed by a ton of thank you photos to past teammates, coaches and even some opposing players.
There were only two young quarterbacks that Brady gave love to in his Instagram story. One was Patrick Mahomes. The other was Buffalo Bills quarterback Josh Allen.
Allen never beat Brady in five career meetings, but the respect was certainly there; which was never more evident than the final matchup in December of 2021. The Bills trailed 24-3 at halftime and came storming back to send the game into overtime, before the Bucs were able to end the game on a long touchdown pass in the first possession of OT.
There's no doubt that Bills fans are sick of Brady and are probably happy his career is finally over, but there is a level of respect there. That became more evident after Brady left the New England Patriots and went to Tampa Bay.
What Brady has done over the last three years and what the Patriots have done since then, proved that Brady was the biggest reason why the Patriots had their dynasty.
Tom Brady Was Intercepted By These Buffalo Bills [LIST]
Tom Brady officially called it quits. He is a list of every Buffalo Bills player who intercepted him during his Hall of Fame career.
Best Free Agents Signed By The Buffalo Bills
The Buffalo Bills are gearing up for a run at the Super Bowl next season and some big-time free agents are already reaching out to the Bills looking to join the team. Check out some of the best free agents the Bills have signed in the past.
16 Buffalo Bills With Some Of The Best And Worst Nicknames