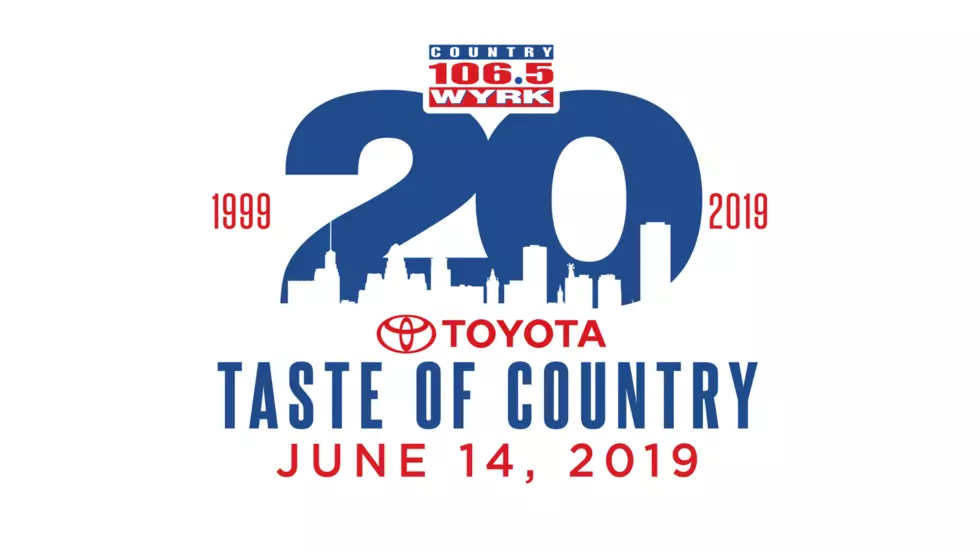 Toyota Taste of Country 2019 Lineup Announced
TOC 20 Logo, Townsquare Media
The Toyota Taste of Country will be held once again at the newly-named Sahlen Field in downtown Buffalo, on Friday, June 14th, but this isn't just any Taste of Country...this is our 20th anniversary in Buffalo! With that being the case we are bringing an extra-special lineup to the festival--including TWO extraordinary co-headliners.
Tickets will go on sale Friday, January 18th at 10AM, but if you want to get your tickets before anyone else on Thursday the 17th then download the WYRK mobile app and enable notifications--our app users will get the first chance to purchase their tickets at a special presale price!
The Toyota #TOC20 Lineup
Co-Headliner #1: Brett Eldredge
One of country music's hottest stars, Brett Eldredge has been producing gold and platinum hits for nearly a decade. Whether he's singing powerful love songs like "Beat of the Music" and "Mean to Me" or bouncing with hits like "Somethin' I'm Good At", Brett Eldredge is undeniably one of country music's top performers and one of the biggest stars to ever headline Taste of Country.
Co-Headliner #2: Luke Combs
Maybe the fastest riser in country music, Luke Combs has been a #1 machine since debuting in 2016 with "Hurricane". Since then his studio album This One's For You has gone platinum and he's produced some of the top hits of the last two years, including "When It Rains It Pours", "One Number Away" and "She Got the Best of Me". Combs hasn't yet reached the peak of his career, but he is one of the hottest solo acts we've ever hosted at the Taste of Country.
Lee Brice
One of the most talented pure musicians in country music, Lee Brice has been writing hits for some of country's biggest names for more than a decade. He's also been performing his own top singles for years, and has produced chart-toppers like "Hard to Love", "I Drive Your Truck", "Drinking Class" and "I Don't Dance". Brice is a world-class talent that we are excited to host at the 20th anniversary Taste of Country.
Joe Diffie
It wouldn't be an anniversary show without a dash of nostalgia, and we wanted to bring back one of the first acts to ever play at Taste of Country. Joe Diffie was a staple of 90's country music, knocking out hit after hit, including memorable favorites like "Home", "If the Devil Danced (In Empty Pockets)", "Pickup Man" and "Bigger Than the Beatles". We are proud to welcome back Joe Diffie and bring that beloved 90's country sound into 2019 at our 20th anniversary show.
Opening Act: TOC Riser Jillian Eliza
TOC20 will be opened by our Taste of Country Riser, Jillian Eliza. Jillian has performed in Buffalo for years and finally will hit the big stage after out-lasting three other talented country acts to win our 2018 TOC Riser Competition. We are excited for Jillian's one-of-a-kind energy and passion to light up the stage and kick off our show the right way--with a true Buffalo country artist.