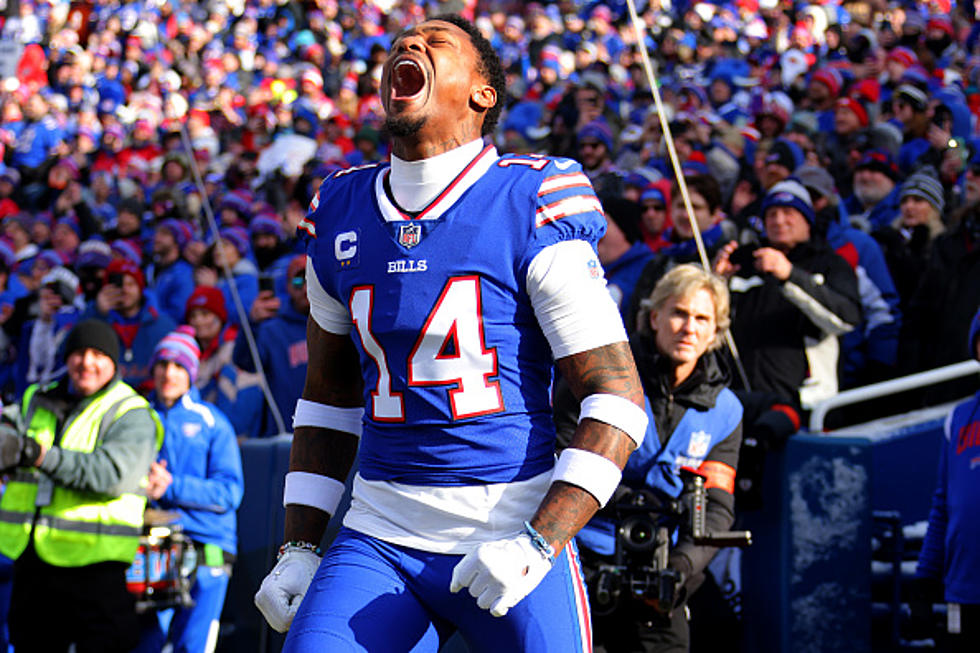 Stefon Diggs Thinks People Who Do This Are Crazy
Getty Images
What will the Buffalo Bills do with the 27th overall pick in the 2023 NFL Draft?
Many Bills fans want them to draft a wide receiver, who can be a true number two to play across the field from number one receiver, Stefon Diggs.
Diggs will be turning 30 years old this upcoming season and it's probably a good plan to have a young wide receiver on a rookie contract (with a fifth-year option) in the fold.
However, there's no doubt that Diggs will continue to be the Bills' number one receiver, for at least the next two seasons, if not three seasons. There has been speculation he could be traded to the Dallas Cowboys to play with his younger brother, cornerback Trevon Diggs.
Diggs' dead cap hit is $45 million in 2023 and $31 million in 2024, which makes a trade virtually impossible. It's not happening.
Diggs has kept up recently on his Twitter account recently, with a pretty fascinating tweet on Monday night.
The Bills wide receiver thinks people who drink something, while food is in their mouth, are crazy...
I have to admit, I have done this. If you're chewing something tough or doesn't really have much in the way of moisture, then it's almost a necessity -- although, I get why it's gross.
Diggs always has great advice in his tweets too. Check out these ones from last week.
If you are not following Diggs on Twitter, I would suggest doing so. He's one of the best follows on social media in the NFL.
Amazing Shirts Any Bills Fan Will Love As A Gift
Whatever your style - classic, retro, funny, or chic - these shirts that you can get on Etsy are way better than the basic Bills merch in the team store.
15 Things You Should Never Do at a Bills Home Game
Things that are a no-no to do at a Buffalo Bills home game.
22 Famous Buffalo Sports Phrases Every Die-Hard Bills and Sabres Fan Knows
Being a sports fan in Buffalo is sometimes like knowing a different language. Here are 22 of our favorite Buffalo sports phrases you already know if you're a huge fan! And if you're new here, here's how to catch up.