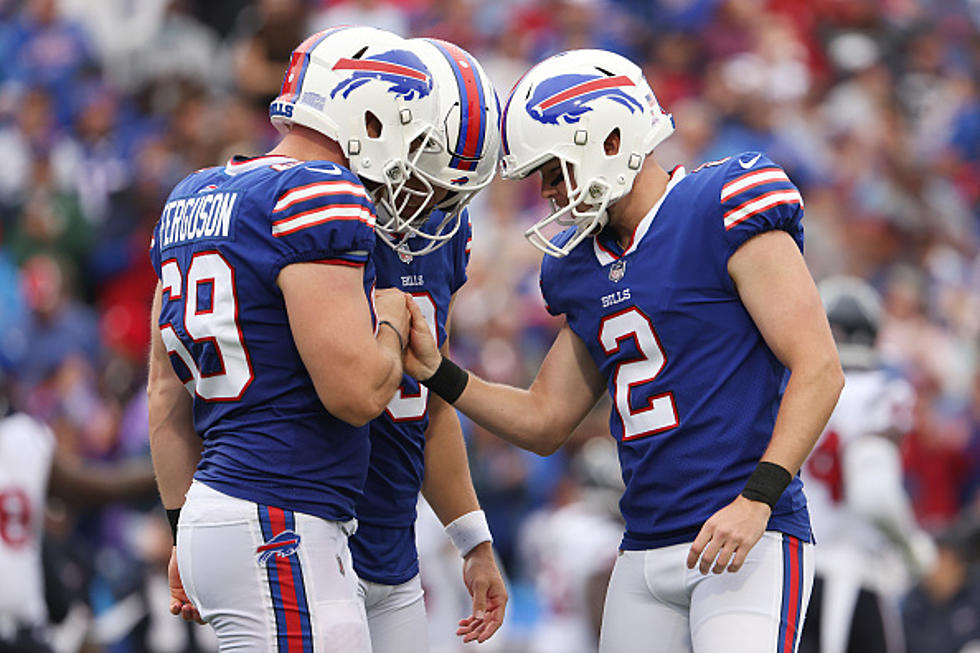 Tyler Bass Had The Greatest Kickoff In NFL History On Sunday [PHOTO]
Getty Images
The Buffalo Bills are one of the best teams in the NFL, if not, the best team in the NFL. They have a high-powered offense with quarterback Josh Allen, and a slew of wide receivers that can wreck a defense like Stefon Diggs and Emmanuel Sanders.
Their defense is also one of the best in football, led by cornerback Tre'Davious White, linebacker Matt Milano and defensive tackle Ed Oliver.
But they also have a legitimate kicker, who is having a breakout season.
Tyler Bass was drafted by the Bills in the sixth round of the 2020 NFL Draft out of Georgia Southern, and won the kicking job during training camp last season.
This season, he's made 16 of 17 field goal attempts and all 23 extra points. Bass is known for having a big leg and plenty of confidence.
Bass showed off that leg during a kickoff against the Miami Dolphins on Sunday. Not only was it a touchback, the ball hit the right upright and we're talking well up. It was basically a field goal attempt.
I was at the game and the entire crowd gasped when this happened. Sure, touchbacks are much more common now that the kickoff is from the 35-yard line, but they usually barely reach the back of the end zone...this kick went at least 15 yards further.
The Bills most definitely have one of the best kickers in the NFL and that's the first time in a very long time that's been the case.
Former Buffalo Sabres Player Sells Million-Dollar Clarence Home
One of the key players on the Buffalo Sabres 1999 playoff run, Richard Smehlik, is
selling
his Clarence home.
$2 Million Lakefront WNY Home Looks Like a Movie Set Inside
This amazing
$2 million home
in Clarence has marble and glass interior with a Hollywood movie like atmosphere.
Very Strange Million-Dollar Home In Western New York
This million-dollar home in New York State will blow your mind when you step inside.