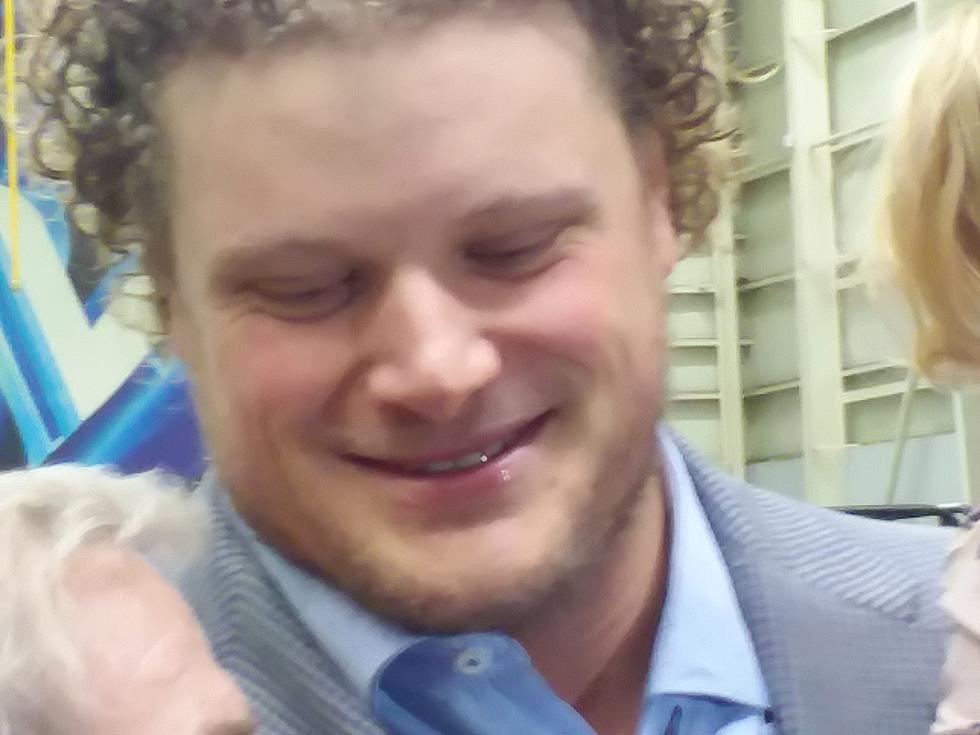 What Was That All About At One Bills Drive?
Dale Mussen photo
Awkward, weird, uncomfortable - you could call it any one of a number of things, but there's no way you could call it smooth or professional.  We learned last Friday that Buffalo Bills center Eric Wood was found to have a serious neck injury and that he would never again be able to play football.  We also learned that the Bills would be holding a press conference at 1:00 on Monday.
A number of current and former teammates turned out at the practice facility where a podium and dozens of seats were set up for the press conference.  Former Bills quarterback Ryan Fitzpatrick was one of the first to arrive.  Kyle Williams, Lorenzo Alexander, LeSean McCoy and all of Eric Wood's offensive line teammates were there.  But the press conference started nearly an hour late and when Wood took the stage he took just over 90 seconds to read a prepared statement and walked off without answering any questions.
He walked over to his wife and young daughter and together they made their way thru well wishers until he left the room.  To say the least people were stunned.  He didn't offer too much more than we already knew.  But there were a couple of things he did reveal.
He said he suffered a stinger in the 5th game of the season and it happened again in the 6th game of the season, but x-rays showed no significant problem.  It wasn't until the end of the season when he was informed that he has a disc that is dangerously close to his spine and even after surgery he wouldn't be cleared to play.
One of the interesting things he said was that he remains on the Bills roster and hopes to help the team in any way he can.  He never used the word retire and that may have been what was going on before the start of the press conference.
If the Bills or Wood announced that he had retired it would count an additional $2-million against the salary cap for a player who no longer played for them.  If they wait until after June 1st they would save that amount.
Wood did say he would answer questions at a later time and you can only assume that's what's going on.  Bills general manager Brandon Beane and coach Sean McDermott really never answered any pointed questions about the delay, about the injury, about any settlement with Wood.  They said they preferred it to be Eric's day and leave the questions for another time.
You can only hope the Bills aren't jerking him around about money.  He signed a contract extension last summer and his medical situation is a shock to the Bills and of course to Wood.
But are the Bills asking for some of that money back?  Is Wood seeking a second opinion?  Was he just too emotional to answer any questions?  And what was going on behind the scenes that kept people waiting for nearly an hour to hear Wood read a short statement?  All of it was just too weird.