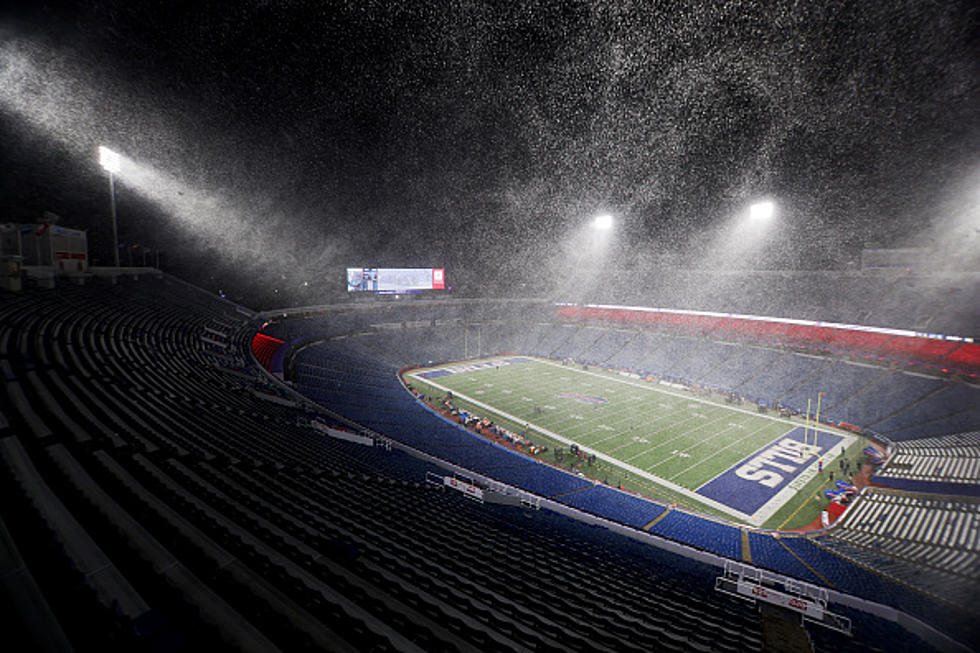 It's a Winter Wonderland at Highmark Stadium Today [PHOTOS]
Getty Images
The Buffalo Bills are getting ready to play the Atlanta Falcons at Highmark Stadium in Orchard Park today, which is the first meeting between the two teams in Orchard Park since 2005. That's because the last Bills home game against Atlanta was played in Toronto.
The Bills have two games left and can clinch a playoff spot today in a multitude of ways, but the easiest way to look at it is hoping for a win (obviously), and a Baltimore Ravens loss.
The Bills and Falcons will both have to play in wintry elements at Highmark Stadium today. It's not heavy lake effect or anything like that, but it's that perfect falling snow you hope for on Christmas Day.
Light and steady but plenty enough to cover the field and give you that nostalgic aesthetic that looks beautiful.
The forecast for the game time will be low-to-mid 20's with on-again, off-again snow showers and maybe and half an inch to an inch of accumulation during the afternoon.
About an inch or two has already fallen in Orchard Park, and the drive in will be very slippery, so if you have not yet gone out to Highmark Stadium, leave yourself extra time.
The Bills are 9-6 and leading the AFC East over the 9-6 New England Patriots, based on division record win percentage.
Kickoff between the Bills and Falcons will be at 1 pm today.
9 Ways The Bills Can Clinch a Playoff Spot This Sunday
Here are the ways the Bills can clinch a playoff spot this Sunday.
The Bills 2022 Opponents We Know Right Now
Here's who we know the Bills will play at home and away in 2022.
TACKLE THESE: Check Out the Best Uniforms In Each NFL Team's History
CHECK IT OUT: 100 sports records and the stories behind them