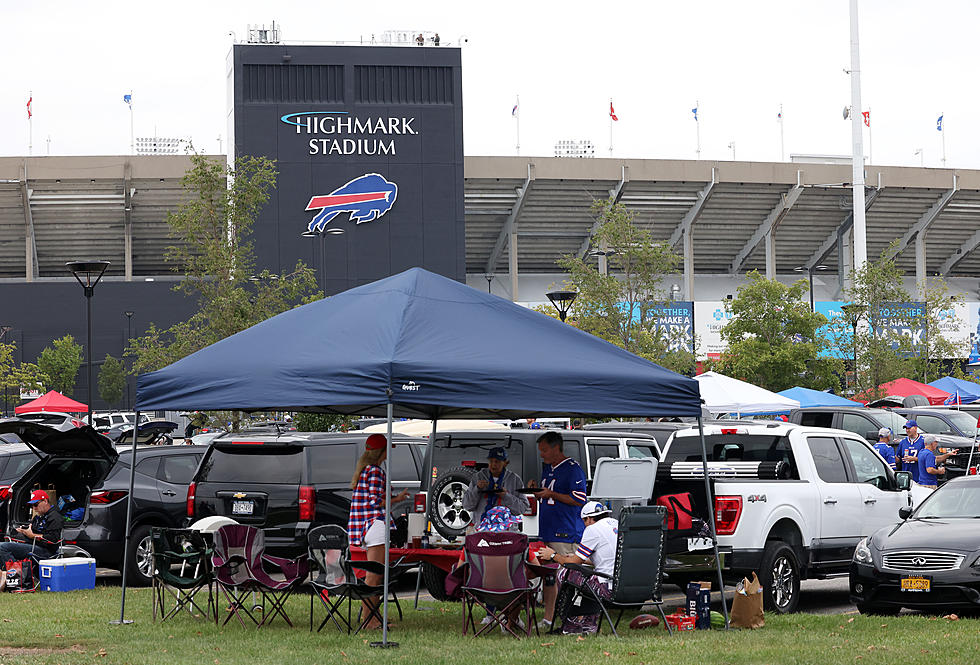 You Won't Believe What Jersey One Fan Wore To The Bills Game Today [PIC]
Getty Images
The Buffalo Bills host The Washington Football Team today at Highmark Stadium in Orchard Park and the weather is absolutely perfect for Sunday. Sunny and low 60s, with a breeze.
The traffic wasn't nearly as bad going to the stadium today, like it was two Sundays ago for the home opener against the Pittsburgh Steelers. It took me 30 minutes to drive from South Buffalo to the stadium lot. It took over 90s minutes for week 1.
One of my favorite things to do before every Bills game is witness different tailgate parties that are taking place around the stadium; there's always something that catches the eye. Another thing to watch out for are the different jerseys that fans wear.
You have the usual: Josh Allen, Stefon Diggs, Tre'Davious White, Jim Kelly, Thurman Thomas, etc.
But there are always jerseys that make you go, "what?" It doesn't even have to be football jerseys, but rather, hockey jerseys.
Buffalo Eats on Twitter spotted one fan who was not only wearing a Buffalo Sabres jersey...it was a Jhonas Enroth jersey!
I couldn't help but comment on just how amazing this jersey spotting was.
That would be a totally random jersey to wear at a Sabres game, let alone a Bills game. The randomness of it is amazing. Reminds me of the time I saw a guy wearing a red alternate Mika Noronen Sabres jersey at a Wegmans; this is better, because it's a Bills game.
What is the strangest jersey you have ever seen worn at a Bills or Sabres game?
15 Things You Should Never Do at a Bills Home Game
Things that are a no-no to do at a Buffalo Bills home game.
25 Important Things You Need To Bring To Your Tailgate
20 Amazing Old-School Restaurants in Buffalo
The 20 best old-school restaurants and bars in Western New York.
CHECK IT OUT: 100 sports records and the stories behind them