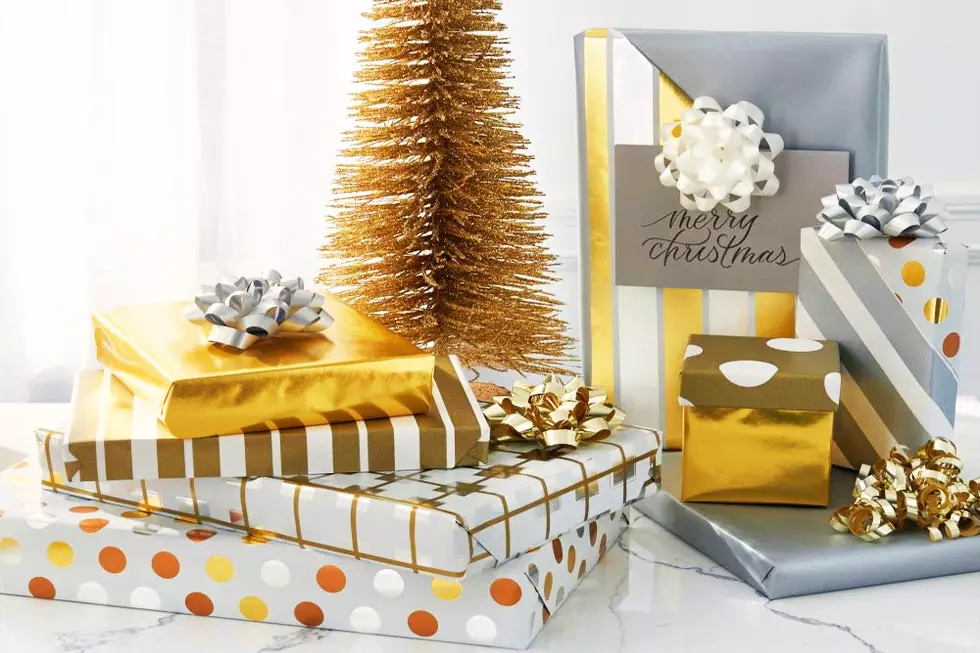 All the Goods You Need to Finish That Holiday Wrapping
Amazon
As Amazon Associates, we early on qualifying purchases. 
You've reached the end of your shopping list. You can see the finish line to the holiday madness. It's just beyond that pile of unwrapped gifts. We've got everything you need to conquer this last bit of holiday shenanigans.
It's easy to coordinate your wrapping when it all comes pre-matched. You'll have your pick of patterns since this set of four is also reversible!
Buy it: https://amzn.to/34j6L5l
---
Wrapping gifts is actually very calming for me. The only part where I start to lose my cool is when the roll starts to curl up on itself and it ruins my nice clean cuts. Enter this specialized paper cutter. You'll never go back to regular old scissors after this.
Buy it: https://amzn.to/2stCDXp
---
If you're a wrapping veteran, you probably have an unsightly pile of half-used rolls, old bows, mismatched tissue paper - the works. Get it all organized and enjoy the extra space with this hanging organizer storage bag. It's clear vinyl so it's easy to spot what you need, and since it's double-sided, you get even more places to store all your tools. No space in the closet? Try this under-the-bed storage box solution!
Buy it: https://amzn.to/2YJBmaU
---
My friends are probably sick of hearing it, but I'll say it again - Work smarter, not harder! If wrapping isn't your strong suit, boxes that come pre-printed with festive patterns are a lifesaver. Throw on a bow and tag and you're done!
Buy it: https://amzn.to/2PFEZuk
---
Bags are another way to expedite your gift wrapping while still making an impression on the gift receiver. They're also great for weirdly shaped items that are hard to wrap traditionally, and these big bags are ideal for all your large presents.
Buy it: https://amzn.to/36yqnUy
---
Gifts aren't much good if you don't label who they're for. If you're going for a rustic look, I love these kraft paper tags. They come with matching twine to really make a statement. Not interested in tying on individual tags? Gift tag stickers are cute and give your boxes and bags a nice, low profile.
Buy it: https://amzn.to/2rIXOF4
---
Standard ribbons are always nice, but I'm a sucker for this multi-colored twine when it's time to add a little pizzaz to my gifts. You can make pom poms, simple bows - all sorts of colorful details.
Buy it: https://amzn.to/2PjPHaW
---
Professional bows add elegance to any box or bag, and now you can get them without having to get a doctorate in ribbon tying. Want something a little different but still Christmasy to top your gift? These holly sprigs are just the thing to tuck into the twine wrapping up a present.
Buy it: https://amzn.to/35loxpB