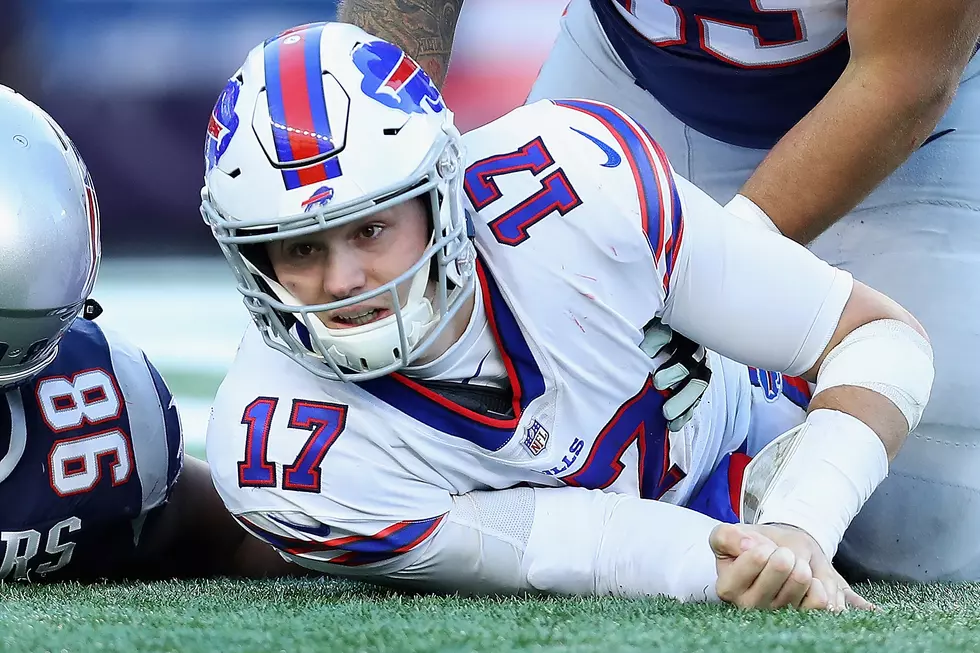 Another Typical Bills Loss to the Patriots
Tough day for the Bills in New England (Getty Images)
It was pretty typical of whenever the Buffalo Bills and New England Patriots get together for a game.  It's usually the Patriots who are able to do whatever it is they need to do to win.  Whether it's Tom Brady throwing for over 300 yards, or the Patriots defense preventing the Bills from scoring a touchdown or in the case on Sunday it was the Patriots running around, thru and over the Bills defense for 273 yards rushing in a 24-12 victory. 
Brady passed for only 126 yards and was intercepted twice.  Rob Gronkowski was held without a catch.  But the Bills just couldn't figure out how to stop the Patriots rushing attack.  When the Patriots needed a first down they usually ran the ball and got the yardage they needed.
And how did Josh Allen do in his first game against the Patriots defense?  He passed for a touchdown and was intercepted twice and finished only 20 of 41, but again he had so many passes dropped it just doesn't seem fair to have that stat credited to the quarterback.  When you put the ball in the hands or near the hands of the receiver they just have to make a play and the Bills receivers just don't come up with the big play.
And wasted opportunities?  Steven Hauscka's 43-yard field goal try hit the crossbar. An interception at the beginning of the second half gave the Bills the ball at the New England 24 yard line, but they were forced to settle for a field goal.  And Jason Croom trying to gain extra yards fumbled at the Patriots six-yard line killing another scoring attempt.
It all adds up to another Patriots win; their fifth in a row over the Bills and the Patriots also clinch their tenth straight AFC East division championship.  For the Bills, the loss drops their record to 5-10 with one game left in a very long, tough, miserable season.  The Bills close the season next Sunday against the Miami Dolphins.