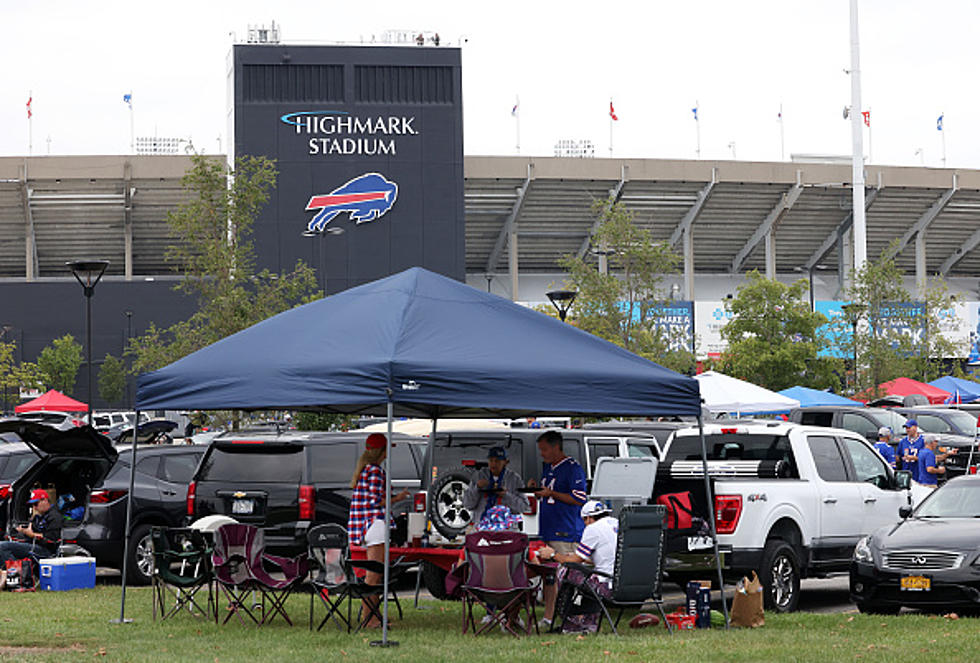 Sunday's Bills Traffic in Orchard Park Could Be All-Time Bad
Getty Images
We're just two days away from the home opener for the Buffalo Bills this season.
The Bills host the Las Vegas Raiders at Highmark Stadium in Orchard Park. Kickoff ius at 1 pm. It's a game the Bills and Raiders both have to have. The Bills do not want to start 0-2 and then potentially be two games back in the AFC East.
The Raiders defense is not as good as the Jets', so this should (on paper) be a game that Josh Allen and the offense get back on track. The defense will have to worry about wide receiver Davante Adams and running back Josh Jacobs.
If you are going to this game, you have to keep in mind that traffic could be awful.
Those who leave after 9:30 am could be contending with a ton of traffic, extending on to the I-219 and then backing up on Big Tree, Abbott and Southwestern Blvd.
The pictures of the construction on Abbott, especially overhead views, paint a good picture on just how much parking is gone this season. Simply stated, there will be many cars looking for alternate parking spots in 2023 and beyond, which will back things up even more than a normal game day (which already has slow traffic).
I've been going to home openers for the past 20 years and it's always the worst traffic day of the season; there's two reasons for that.
One reason is the fact that it's a new season and everyone is getting back into a routine for game days. The second reason is that many people go down to tailgate and party (they are not even going to the actual game). This is also the first time we have had to deal with this for a regular season game, so it's going to be a learning experience for most everyone.
You factor in this construction and we have a problem.
The Orchard Park Police Department is urging fans to have a plan in place before heading to the stadium on Sunday: they are foreshadowing a heavy traffic scene for Sunday morning.
Many people park in the Bills owned lots, but those do not open until 9 am. If you can, try leaving extra early and park in a privately owned lot (it will save you a ton of time).
The Bills say the RV lot (lot 4) is not available until 2026. The bus and limo lot has moved from the west side of Abbott Road to the east side of Abbott Road.
The ECC south campus stretch of road to Abbott will not be available due to construction.
Lot 3 has relocated near the corner of Abbott and Big Tree Roads. Part of Lot 4 still remains open.
The We Are Buffalo Tailgate Party will be at The Wings Meeting Place on California Road, which has parking for vehicles and RV's. We will be out there starting at 7:30 am.
Get there early.
15 Things You Should Never Do at a Bills Home Game
Things that are a no-no to do at a Buffalo Bills home game.
22 Famous Buffalo Sports Phrases Every Die-Hard Bills and Sabres Fan Knows
Being a sports fan in Buffalo is sometimes like knowing a different language. Here are 22 of our favorite Buffalo sports phrases you already know if you're a huge fan! And if you're new here, here's how to catch up.
Complete List Of Buffalo Bills Available On Cameo