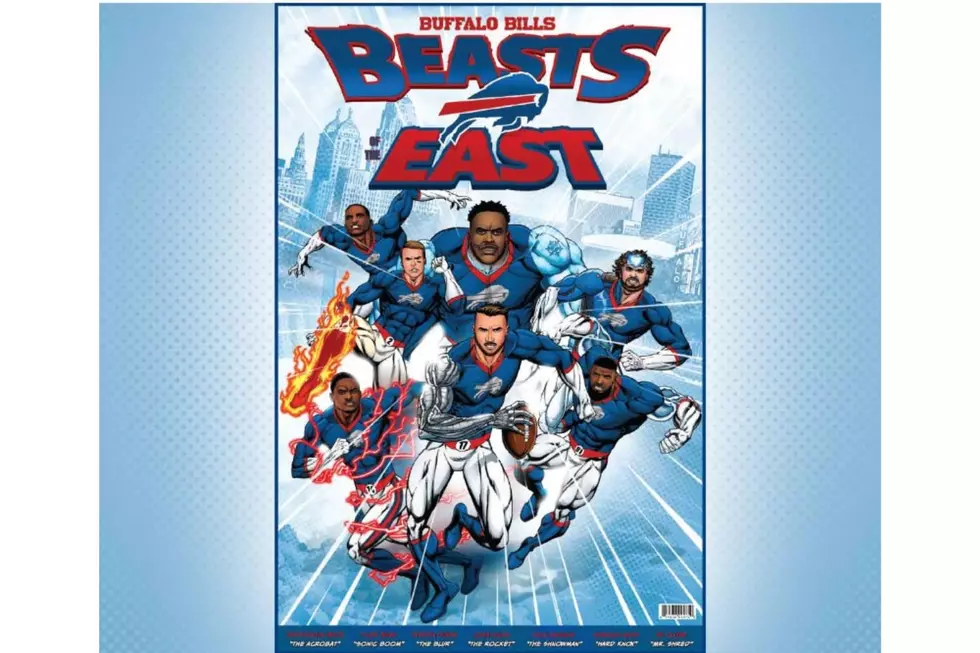 The Bills Are Powerful, Soaring Superheroes At Wegmans
Wegmans/Canva
The Buffalo Bills are the reigning superheroes of Western New York, so it's no surprise that they've been turned into them officially. 
If you're looking for a quirky, fun last-minute gift for your favorite Bills fan, your local Buffalo-area Wegmans just may have the trick.
Wegmans is usually stocked with go-to Bills t-shirts, hoodies, and other tchotchkes that Buffalo Bills fans would love to find in their stockings this year.  This year, Wegmans has released limited-edition posters, T-shirts, and hoodies depicting our favorite Bills players as superheroes from another dimension. 
Showcasing the Buffalo Bills as "Beasts of the East" with the cityscape of Buffalo in the background, these fun items feature:
Josh Allen as "The Rocket"
Dawson Knox as "Hard Knock"
Tyler Bass as "Sonic Boom"
Stefon Diggs as "The Blur"
Dion Dawkins as "The Shnowman"
Tredavious White as "The Acrobat"
Ed Oliver as "Mr. Shred"
These will sell out fast, so grab yours while you get your last-minute goodies for this year's holiday gathering!
Amazing Shirts Any Bills Fan Will Love As A Gift
Whatever your style - classic, retro, funny, or chic - these shirts that you can get on Etsy are way better than the basic Bills merch in the team store.