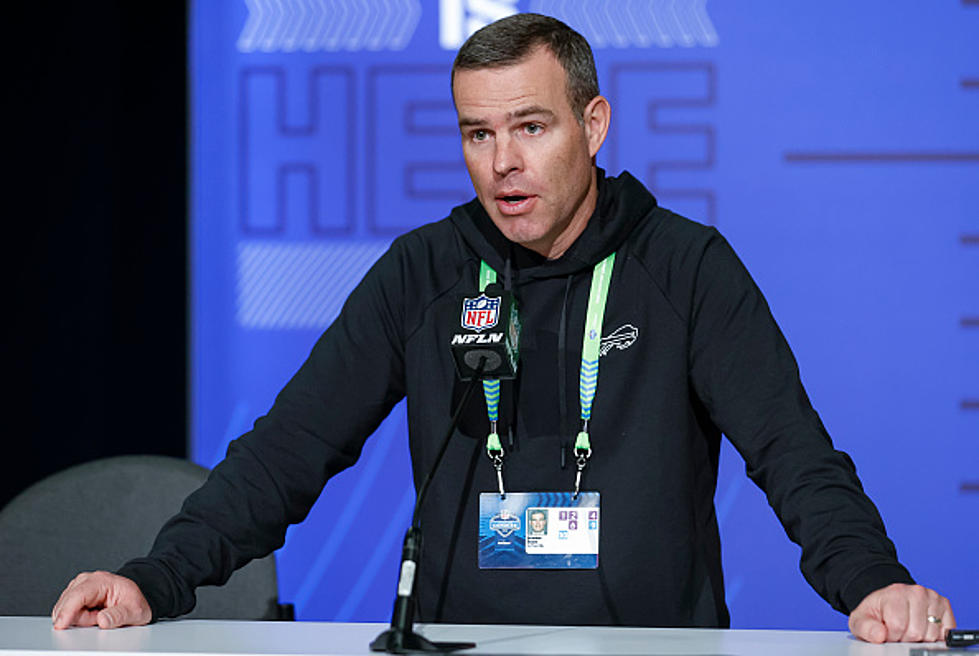 Brandon Beane With Honest Comments on Josh Allen
Getty Images
The Buffalo Bills front office and coaching staff has arrived at the 2023 NFL Scouting Combine. Over the next week, the Bills staff will assess the prospects who will be working out on the field, along with meeting with the teams individually, to gauge the kind of people they are.
The Bills were dealt a blow just ahead of the combine, as the team announced that defensive coordinator Leslie Frazier would be taking a year off from coaching; planning on a return in 2024.
However, there's no indication that will be with Buffalo or another team.
Bills general manager Brandon Beane addressed the Frazier news at the combine. Beane said Frazier reached out to him and the Bills about wanting to take a step back, but did not want to retire.
Beane said that head coach Sean McDermott, who has an extensive defensive background, will likely be more hands on next season.
Beane also talked about quarterback Josh Allen with the media.
The Bills GM said that one of Allen's best attributes is his "give a shit factor," talking about how much winning and the process means to him.
One of the things everyone knows about Beane during meetings with the media, is that he is very honest and more open than other NFL general managers and head coaches. It's one of the reasons that fans and media members appreciate him.
The Bills will likely be scouting wide receiver, offensive line, safety and linebacker at the combine. Those seem to be the positions of need heading into the off-season.
6 Buffalo Bills Greats That Didn't Look Right In A Different Uniform
Unfortunately, sometimes your favorite player leaves your team and when you see them it just looks weird. Here are five former Buffalo Bill greats that just look weird wearing a different team's jersey.
16 Buffalo Bills With Some Of The Best And Worst Nicknames
22 Famous Buffalo Sports Phrases Every Die-Hard Bills and Sabres Fan Knows
Being a sports fan in Buffalo is sometimes like knowing a different language. Here are 22 of our favorite Buffalo sports phrases you already know if you're a huge fan! And if you're new here, here's how to catch up.