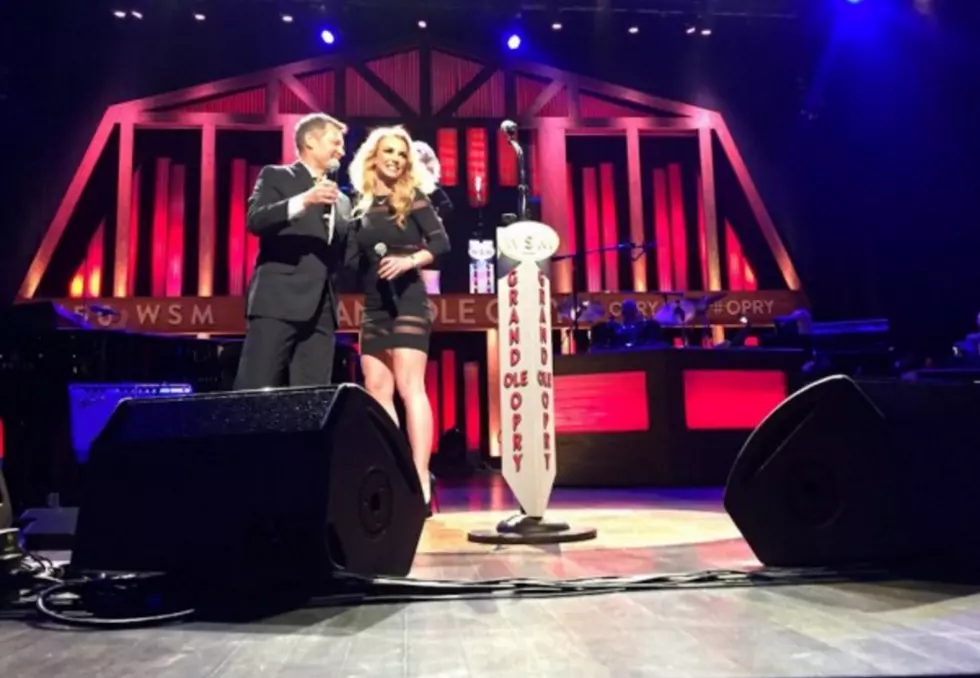 Britney Spears Introduces Little Sis Jamie Lynn in Surprise Opry Appearance
Opry
The princess of pop took a turn in the iconic country spotlight of the Grand Ole Opry on Tuesday night (March 15). Britney Spears surprised her younger sister, Jamie Lynn, who has been pursuing a career in country music. The pop icon and her brother Bryan both secretly planned to attend the performance, along with Jamie Lynn's parents, husband and daughter. Britney introduced Jamie Lynn before her show at the historic venue.
Britney was introduced (along with Bryan) as they walked on stage, and the "Oops!...I Did It Again" star thanked the Opry for letting her introduce her 24-year-old little sister. She took time away from her Vegas residency to attend the show, posting a photo on Instagram with her brother and noting her excitement for her sister.
Jamie Lynn performed her song "How Could I Want More," as well as a new tune. She's been writing a lot and working on new music since the release of her first EP in 2014. Her song "I Got the Boy," which she co-wrote with Connie Harrington and Tim Nichols, was cut by Jana Kramer last year.
She says writing is a part of her music that she is passionate about and wants to always keep a priority. "I never want to get way from that again," Jamie Lynn told Taste of Country last year. "No matter what I'm doing, I want to always create music and really take time for that. It's nice and it's fresh to take a break sometimes, but having those times where you really can just sit there and write in each phase of your life is really important."
No word yet on a new record release date, but Jamie Lynn was taking her time writing and sifting through past tunes to see what fits after going through her first experience making an album.
"Last year was my first time releasing an EP, and that was a whirlwind," she recalled. "I didn't really know what to expect, and I was really pleased with the way everything went as far as doing that my first time independently. But this year, it's kind of time to say, 'Okay, you've been through the first round of understanding the whole process,' and give me some time to think about what I want to say with my next project. That's what I'm doing right now. I've been in Nashville writing a good bit, but I'm also digging through my catalog, digging through some old songs and just trying to figure out what my next message is gonna be."
More Artists Who Unexpectedly Went Country
Startling Facts About Women and Country Music