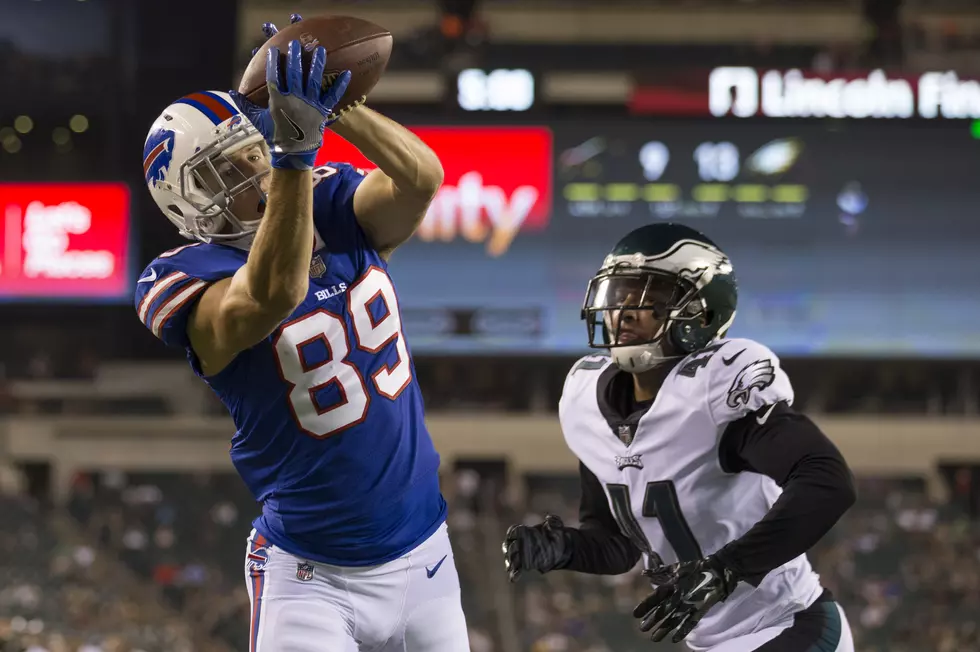 Buffalo Bills Come Up Short In Philly
Rookie Brandon Reilly catches a touchdown pass against the Philadelphia Eagles (Getty Images)
At least they were in it until the end.  With the Bills at the 9-yard line, quarterback T.J. Yates was intercepted in the end zone and the Bills fell to the Philadelphia Eagles 20-16 on Thursday night.  It was the third interception of the night for Bills quarterbacks.  Tyrod Taylor was picked off twice in the first quarter.
Not a very good night for the starting Bills offense.  Taylor finished 8 of 18 for 53 yards and the two picks.  The Bills just couldn't get much going for them in the quarter and a half or so they played.  Rookie Nate Peterman seemed to get things rolling in the quarter and a half that he played completing 10 of 20 for 167 yards.
Rookie Brandon Reilly led all receivers with four catches for 39 yards and a touchdown.  Rob Streater, a guy who had been turning heads in training camp, had a pair of catches for 40 yards including a 28-yard catch and run, but he was carted off with a foot injury before halftime.
The defense looked solid allowing the Eagles only two third-down conversions for the entire game and only 66 yards on the ground.  But one area the coaching staff will have to take a good, long look at is penalties.  The Bills were flagged 15 times for a whopping 131 yards.  Special teams penalties were especially hurtful to the team.
The Bills drop to 0-2 in the preseason.  They play in Baltimore a week from Saturday.