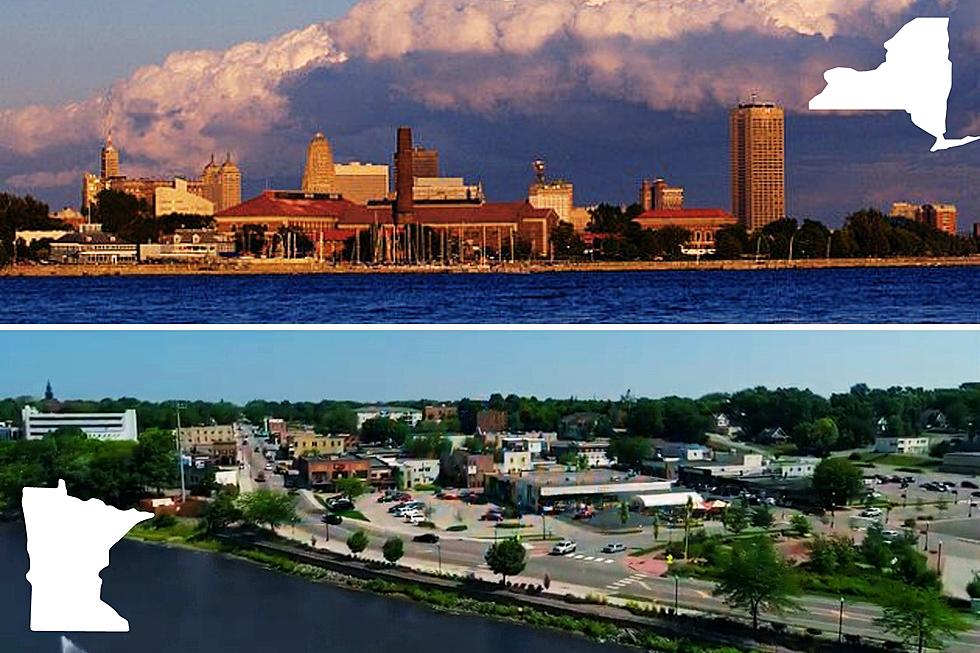 Which City Is REALLY Better – Buffalo, NY Or Buffalo, MN?
YouTube/Canva
Buffalo, New York is one of the best places to live. We've been saying it for years. 
And why not? The food is renowned. Our sports teams rule (Go Bills!). And the sense of community in the "city of good neighbors" is unlike any other place we've been. Buffalo is, through and through, a city we're proud to call home. 
Even though many locals want to "keep Buffalo a secret," most of us want to shout our love for the city from the rooftops. 
But did you know that there are some people that also can call themselves proud Buffalonians - and that they live almost a thousand miles away?
Buffalo, Minnesota vs Buffalo, New York
Buffalo, Minnesota, about 42 miles west of Minneapolis, was founded in 1856 and named after their nearby Buffalo Lake. According to the latest available census data, Buffalo, MN has a population of just over 18,000 and stretches approximately 10 square miles.
Buffalo, New York, is obviously a lot bigger, with a population of 278,349 according to the 2020 census. It's ranked the 78th-largest city in the United States.
Size-wise, Buffalo, Minnesota doesn't even come close to our New York namesake, with our Buffalo stretching over 50 square miles.
Which Buffalo is really the best - Buffalo, NY or Buffalo, MN?
Just because Buffalo, New York, is much bigger - population and area-wise - than Buffalo, Minnesota, is it really better? Which Buffalo really is the better Buffalo?
It's time to compare these two very different cities to break down which Buffalo really is the better Buffalo.
Here's The Ranking Of Buffalo, New York Vs Buffalo, Minnesota
Let's decide which city of Buffalo is the best.