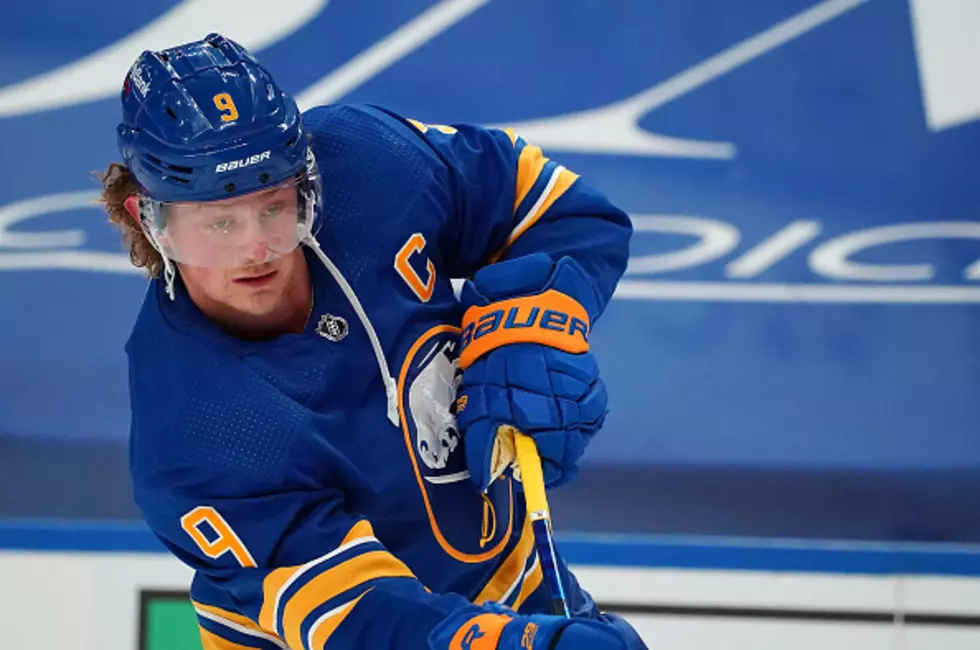 Buffalo Sabres General Manager Kevyn Adams Had Interesting Comments on Eichel Situation
Getty Images
As the Buffalo Sabres begin another training camp, they still have a cloud hanging over them. Two clouds actually: one is the team's on-ice performance over the last decade. The other is Jack Eichel's situation.
On Thursday morning, Sabres general manager Kevyn Adams spoke about the organization and where they stand with Eichel.
Adams announced that Eichel is no longer the captain of the Sabres and explained why they felt they needed to make that decision.
"From our perspective, the captain is your heartbeat of your team, and we are in a situation where we felt we needed to make that decision," said Adams."
Eichel did not pass his physical, and according to Adams, Eichel is not willing to move forward with what team doctors are suggesting.
Adams says that they speak multiple times a day with Eichel's new agent, Pat Brisson and that they will continue to work towards a situation.
For now, Eichel will go on injured reserve; meaning he will not be able to play for the Sabres for the time being.
Adams added that if there was a solution to be made during the summer, regarding Eichel's situation, they would have made it. That likely means if a trade proposal was there that they were comfortable with, they would have made it. Clearly, Adams and the Sabres didn't think they got enough value in a trade offer this summer.
Adams added they will not back down from pressure to make decisions and will do what is best for the team.
It's clear the fans are not happy with the Sabres and that was the case long before the Jack Eichel situation. This saga between the Sabres and Eichel has made things much worse for fan morale and the look of the Sabres organization.
There's really no end in sight here and I'm sure Sabres fans wish for this to be over. For now, we'll have games to at least distract us from the Eichel saga.
22 Famous Buffalo Sports Phrases Every Die-Hard Bills and Sabres Fan Knows
Being a sports fan in Buffalo is sometimes like knowing a different language. Here are 22 of our favorite Buffalo sports phrases you already know if you're a huge fan! And if you're new here, here's how to catch up.
Most Expensive Home For Sale in the Southtowns
Step inside the most expensive home for sale currently in Orchard Park, located on Chestnut Ridge Rd.
This $1.7 Million Home In Clarence Will Blow Your Mind
Step inside this amazing home
for sale
in Clarence.
Step Inside This $1 Million Log Home in Marilla, NY
This huge property in Marilla has its very own pond!