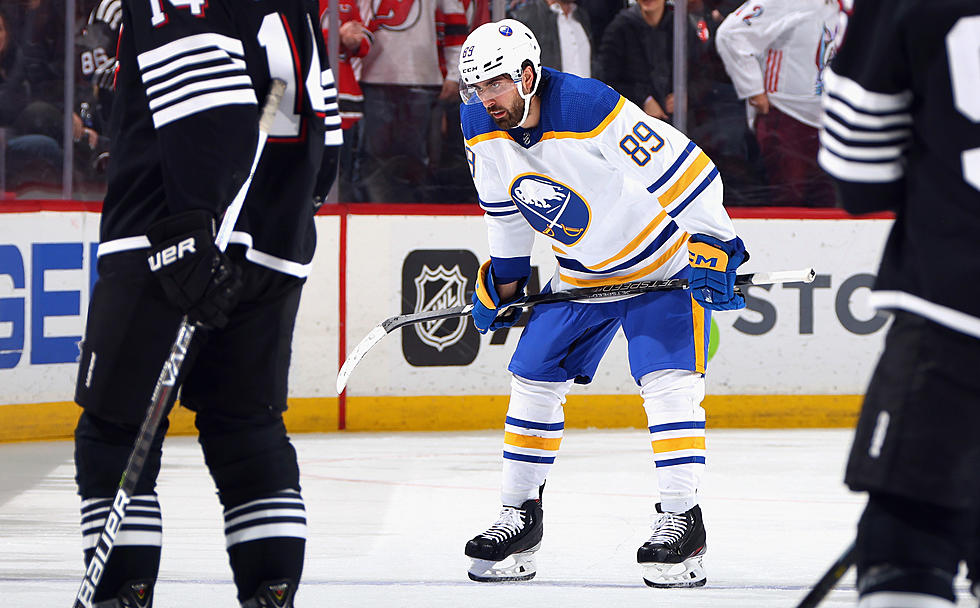 Buffalo Sabres Jerseys Will Have A New Look In 2023
Getty Images
It's more than just a logo on the jersey or a different color scheme.  The Buffalo Sabres will have something new on them this year.
Sabres jerseys have seen change before
Over the last couple of years, the Buffalo Sabres have seen quite a few changes to the look of their jersey.  They went from blue and gold to black and red.  Then they changed the logo from a buffalo between two sabres to what we describe as a goat head logo.  Then they changed back to the blue and gold but had what looked more like a slug logo.  Now they've switched it up again with a blue and gold look with the goat head logo and a black and red jersey on special nights.
But this year will be different on every single game.
The Sabres will have a new patch
When the Buffalo Sabres take to the ice on Thursday night, there will be one little change on their jersey that will mean a lot to Sabres fans.  They will be donning a patch on their shoulder with the letters 'RJ' on it.
The patch is meant to honor legendary play-by-play man Rick Jeanneret
Rick Jeanneret was the play-by-play man for the Buffalo Sabres since the beginning of the franchise.  He called games for over 5 decades and watched through every single jersey change that we've seen. Jeanneret passed away over the summer. It's only fitting that he should be honored this season.
There will also be a party in the plaza outside Key Bank Center before their game on Thursday as the Sabres unveil "RJ Way" to honor Jeanneret at that party.
Top 10 Most Underrated Buffalo Sabres of All-Time
Gallery Credit: Brett Alan
Buffalo Sabres Goalie Masks
Take a look at some amazing Goalie Masks in Buffalo Sabres history.
Gallery Credit: Dave Fields
Buffalo Sabres Captains Since 2000
Gallery Credit: Dave Fields