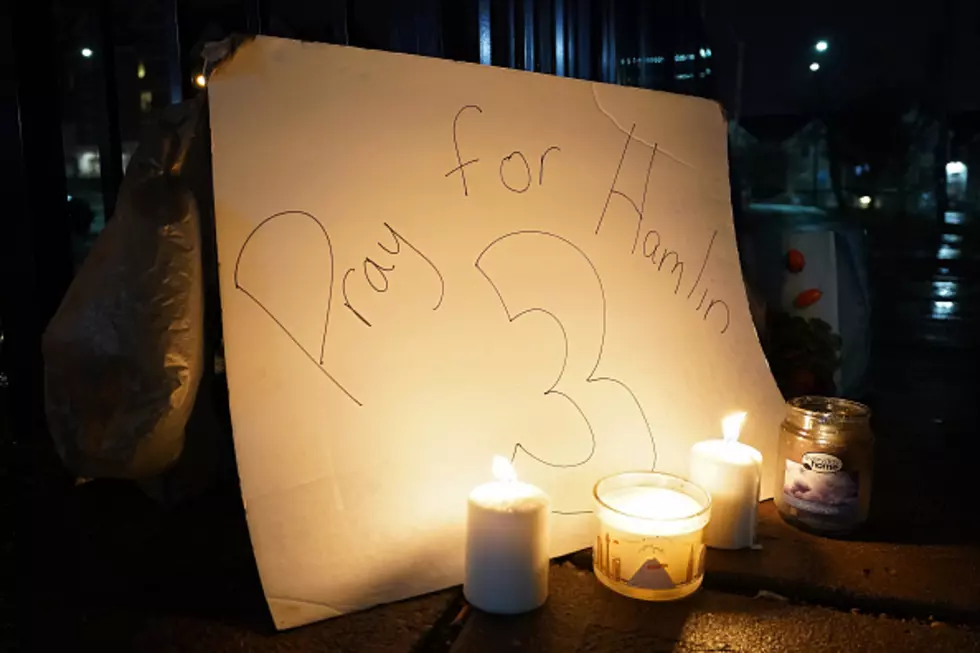 Damar Hamlin's Uncle: Powerful Quote That Everyone Should Read
Getty Images
The entire sports world and even those outside the sports and NFL world are thinking, pulling and praying for Buffalo Bills safety Damar Hamlin.
The Bills second-year safety went into cardiac arrest during last night's Monday Night Football game against the Cincinnati Bengals. Hamlin was given CPR on the field at Paycor Stadium and his heartbeat was restored, according to a statement from the Buffalo Bills on Tuesday.
Hamlin remains in critical condition and in the ICU at the University of Cincinnati's Medical Center.
The outpouring of support has been amazing, from the entire sports world and those who don't normally post NFL news on their social media feeds. Over $5 million has been donated to Hamlin's Chasing M's Foundation Community Toy Drive and all 32 NFL teams have changed their profile photos on Twitter to "Pray for Hamlin," with his number 3 Bills jersey.
Many stadiums and landmarks will be lit in Bills colors to show support for Hamlin, his family and the Bills.
We don't know the exact medical details of his condition, but Damar's uncle, Dorrian Glenn, shared some thoughts with Bills reporter Matt Parrino of Syracuse dot com and NYUP dot com, on not only his nephew's condition, but some words that everyone needs to hear.
Glenn said that Hamlin has a little lung damage, but that he's only using 50 percent of the ventilator, whereas he was using 100 percent last night.
Glenn also shared one of the most powerful quotes that you will ever hear in your life.
Hamlin's uncle said:
"A lot of people don't see how much they're loved when they're alive. To see that he has a chance to eventually recover and see all the love he's gotten...it's gonna mean a lot to him."
We continue to think of Hamlin and will pray for a positive update soon.
Top 10 Receivers In Buffalo Bills History
The Bills have had some amazing wideouts. Here are the Top 10 based on reception yards in Bills history.
Top 10 Running Back In Buffalo Bills History
As we get ready for another season of Buffalo Bills football, check out the Top 10 running backis in Bills history.
The Best 50 Ice Cream Places in Western New York
The warm weather means ice cream season is just about here.