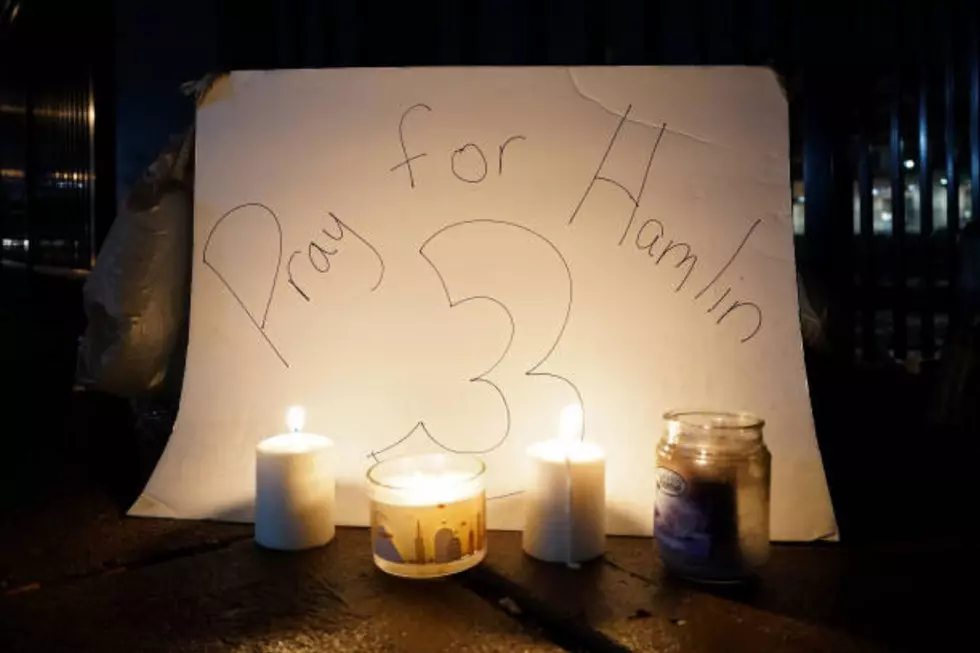 This Is What Damar Hamlin's Father Told The Bills
Getty Images/Canva
Damar Hamlin's father shared some moving and motivational words with his son's fellow teammates. 
Thursday afternoon, doctors at the University of Cincinnati Medical Center gave an official update on the status of Hamlin, much of which was positive.
After suffering cardiac arrest on the field during Monday night's Bills vs. Bengals game, the physicians stated that Damar Hamlin remains in critical condition but is showing "substantial improvement," including moving his extremities and communicating via writing and nodding.
It was a massive relief for Bills fans and spectators worldwide who have been invested in the well-being of Hamlin since the incident.
The Bills' feelings on Sunday's matchup against the New England Patriots remained a mystery until the news about Hamlin's condition broke on Thursday afternoon.
In their first press conference since the harrowing event, Bills head coach Sean McDermott and quarterback Josh Allen spoke about their emotions following the incident, their reactions to Thursday's encouraging news regarding Damar's health, as well as their outlook on this Sunday's game.  
They also revealed that Damar's father, Mario Hamlin, addressed the team during one of their meetings this earlier week. 
Paraphrasing his father's words, McDermott said,
"Damar's father spoke to the team, and really, his message was the team needs to get back to focusing on the goals that they had set for themselves. Damar would have wanted it that way… so that includes our game against New England this week...it was a huge help to getting us back to focus on the game this weekend."
We can't imagine what the Hamlin family has been going through this week. Hopefully, they feel comfort and relief knowing their beloved son is slowly but surely getting better.
Sunday is also bound to be an emotional day at Highmark Stadium for the Bills players, staff, and their dedicated fans. But both Allen and McDermott expressed their gratitude towards the outpouring of support.
Allen summarized their outlook on this weekend's game simply:
"We've got to keep moving forward."
Amazing Shirts Any Bills Fan Will Love As A Gift
Whatever your style - classic, retro, funny, or chic - these shirts that you can get on Etsy are way better than the basic Bills merch in the team store.