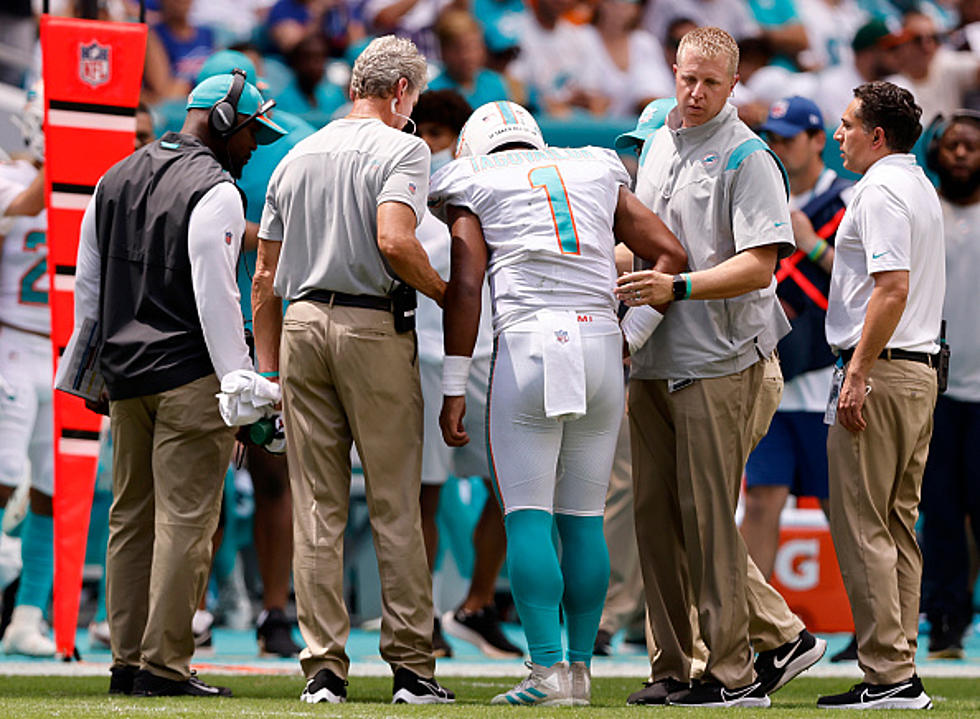 Dolphins Starting QB Has Broken Ribs, After Being Hit by Bills Edge Rusher
Getty Images
The Buffalo Bills are preparing to play The Washington Football Team this Sunday at Highmark Sunday. The Bills are looking to improve to 2-1.
The Bills first win of the season came this past Sunday against the Miami Dolphins in what was a very impressive win, especially for the defense, shutting out the Dolphins offense, 35-0.
During the second drive of the game, Miami starting quarterback Tua Tagovailoa was knocked out of the game with an apparent rib injury. The hope for the Dolphins was that Tua didn't have fractures ribs, but on Wednesday, that fear became reality.
According to Miami head coach Brian Flores, Tagovailoa has fractured ribs and backup Jacoby Brissett will start for the Dolphins this Sunday.
Tua was hurt after Bills second-year edge rusher A.J. Epenesa hit him in the process of throwing. It was a crushing hit where Tua's entire midsection was exposed.
Epenesa had eight QB pressures in the game against the Dolphins and forced a couple of the six sacks the Bills had on Miami quarterbacks.
Epenesa looked extremely impressive in training camp and preseason and he played well against the Pittsburgh Steelers in week 1. Then he went out and had an unbelievable game against Miami in what's just a rotational role at the moment.
It's tough news for the Dolphins, who were relying on Tua to have a breakout second season but now that's on hold.
15 Things You Should Never Do at a Bills Home Game
Things that are a no-no to do at a Buffalo Bills home game.
16 Buffalo Bills With Some Of The Best And Worst Nicknames
TACKLE THESE: Check Out the Best Uniforms In Each NFL Team's History
CHECK IT OUT: 100 sports records and the stories behind them