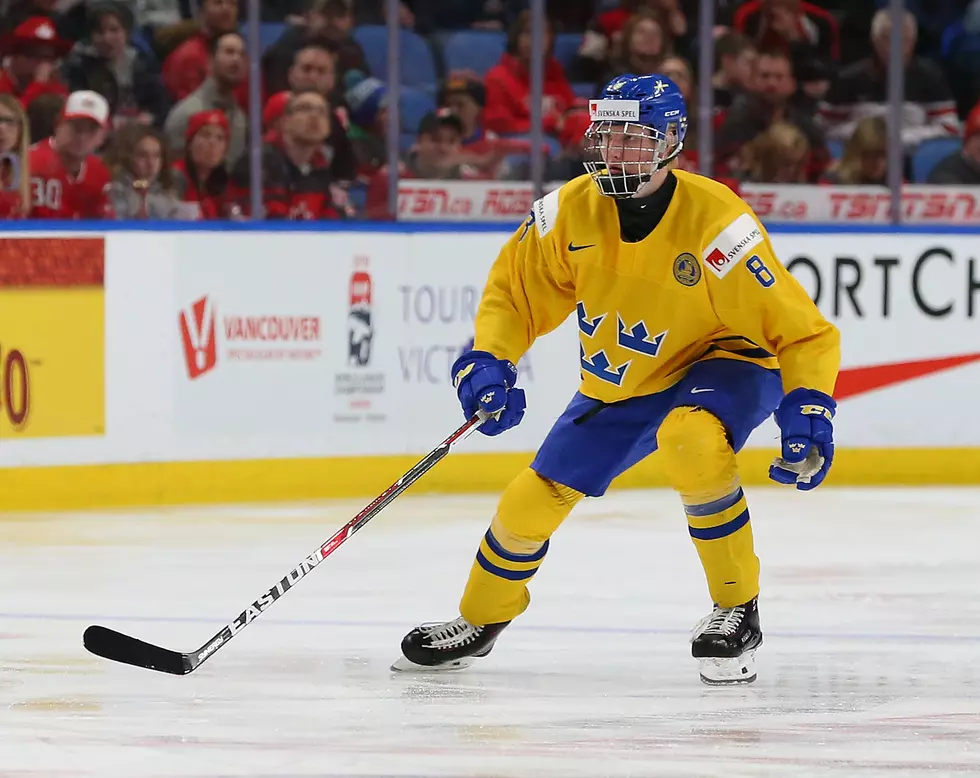 Finally the Buffalo Sabres Win One
Likely Buffalo Sabres draft choice Rasmus Dahlin (Getty Images)
Hallelujah!  On the third try the Buffalo Sabres ended up finally winning a draft lottery.  Over the weekend the NHL held its convoluted draft lottery and as they usually do it's behind closed doors, but this time the Sabres ended up with the Number one overall draft pick. 
For the third time in five years the Sabres were the worst team in the league and for that they were rewarded the best CHANCE of winning the draft lottery.  In the two previous times they were in that situation they ended up with the second overall pick and with those picks the Sabres selected Sam Reinhart and Jack Eichel in the amateur draft.
Different story this year.  The Sabres beat out Carolina and Montreal among the final three and for the Sabres that means the opportunity to add what NHL Scouting calls a generational player, 18-year old defenseman Rasmus Dahlin who's been compared to Dennis Potvin.  Among more current defensemen he's mentioned among the names of Victor Hedman and Erik Karlsson.
Dahlin has been playing in the Swedish Hockey League against players much older than him and has played well.  He's described as a smart two-way defenseman who is a great skater with outstanding puck handling, vision, intelligence and shot.
He's 6-foot-2, 181 pounds and represented Sweden at the Olympics in Korea and at the World Junior Championships in Buffalo.  He was named Best Defenseman at the World Juniors.  He's expected to step right into the Sabres lineup.
It's the third time in their history that the Sabres will have had the top overall draft pick.  They drafted Gil Perreault with the top pick in 1970 and Pierre Turgeon in 1987.