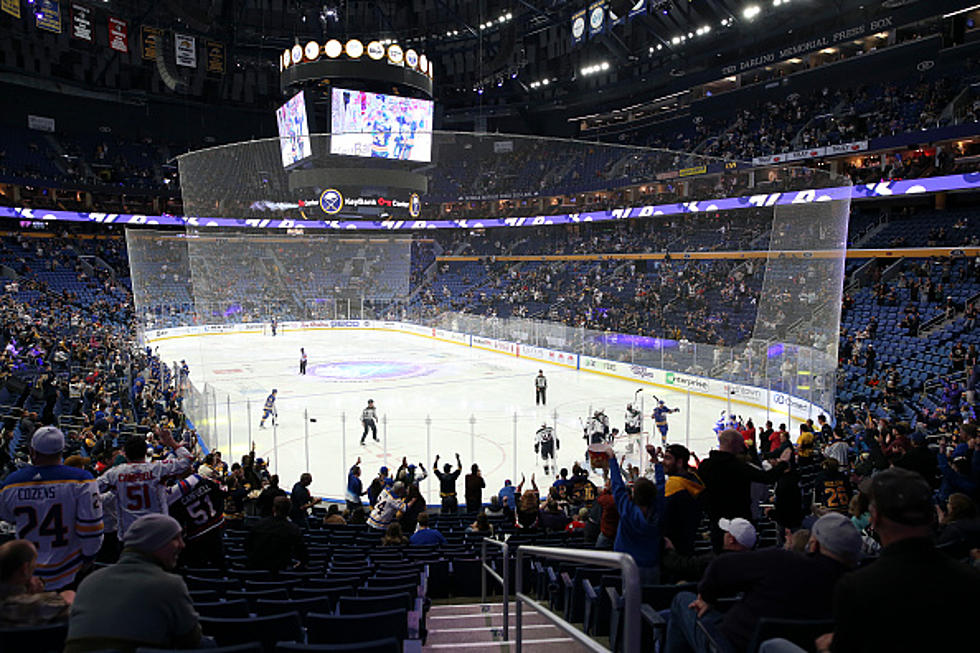 FREE Cooler For Everyone Going To Sabres 'Bring Your Buds' Night
Getty Images
The Buffalo Sabres are teaming up with Budlight for 'Bring Your Buds' night at the Key Bank Center when the Buffalo Sabres host the New York Islanders at 7 PM.
If you are one of the first 10,000 people inside you are going to get a FREE Budlight cooler. Plus, tickets for the 'Bring Your Buds' night are 50 bucks for 2 tickets.
Through 45 games as of Thursday morning, the Buffalo Sabres have only notched 35 points, which is one of the worst positions in the entire National Hockey League. One could assume that because of the less-than-stellar playing and maybe a combination of the Buffalo Bills just wrapping up their season for the low attendance at Key Bank Center. During some Buffalo Sabres games, it is even noticeable on the TV that there is low attendance for Sabres games.
But, listen to something cool that you can do tonight!
Tonight, Thursday, February 10, the Buffalo Sabres host the Columbus Blue Jackets and you can meet longtime play-by-play Sabres announcer Rick Jeanneret before the game at the Buffalo Seneca Creek Casino. That is the casino right by the Key Bank Center located at 1 Fulton Street in Buffalo. Rick Jeanneret announced earlier in 2021 that this will be his final season of work and he will be retiring. He will be doing limited announcing for games up until the end of the season. He said that he will be ending his career and doing his "last call" with the Buffalo Sabres when they have their final regular-season game on April 29, 2022 against the Chicago Blackhawks.
Buffalo Sabres Goalie Ukko-Pekka Luukkonen
Last Time the Sabres Were 3-0 Life Was Shockingly Different
12 of the Worst Reviews of The Sabres Arena That You Need to See