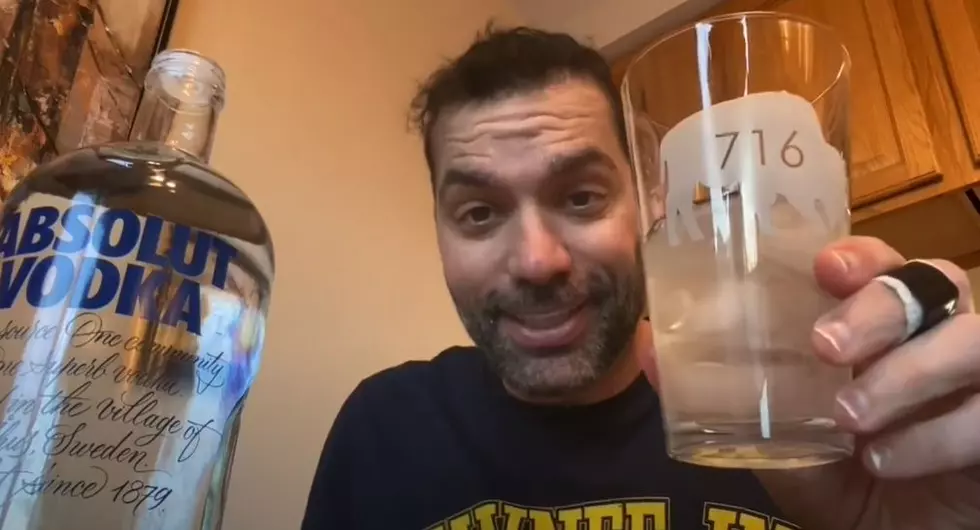 Here Is The Perfect Drink For A Wet Weekend In WNY
Photo Credit: Dave Fields/TSM2021
Hopefully, you are enjoying the sunshine today but get ready because Buffalo is set to turn into a mini-Seattle this weekend with lots of rain.
We all know that Rain is a good thing, so for this weekend, I found the perfect drink to go with the weather.
It is called "Rain" and it looks like you are drinking pure rainwater.
To make "Rain" you start with 2oz of Vodka. I went it Absolut Vodka since the big bottles are on sale at the three independently owned and operated Value Wine Group stores for only $26.99.
Add the vodka to a shaker full of ice, then add the juice from half a lime and 2oz of lemon-lime pop.
Shake it up and then strain into a glass full of ice. You can see from the video below that the mix comes out looking like pure rainwater.
Now you have the perfect drink to sip on as you watch the rain fall down mainly on the plains of Western New York.
Get your bottle of Absolut Vodka for only $26.99 at Best Value Wine And Liquor in the Wegman's Plaza in West Seneca, Wine and Liquor Chateau in the Dash's plaza in Williamsville, and Midnight Liquor in the Covin/Eggert plaza in Tonawanda.
Check out the video to see how to make "Rain" at home.
Check out some other amazing Drinks you can make this weekend.
The 12th Man Drink
The Bishop Drink
The Boo-Berry Scream Drink
Cranberry Sangria
A Purple Zydeco
Top 10 Places In Buffalo For Magaritas