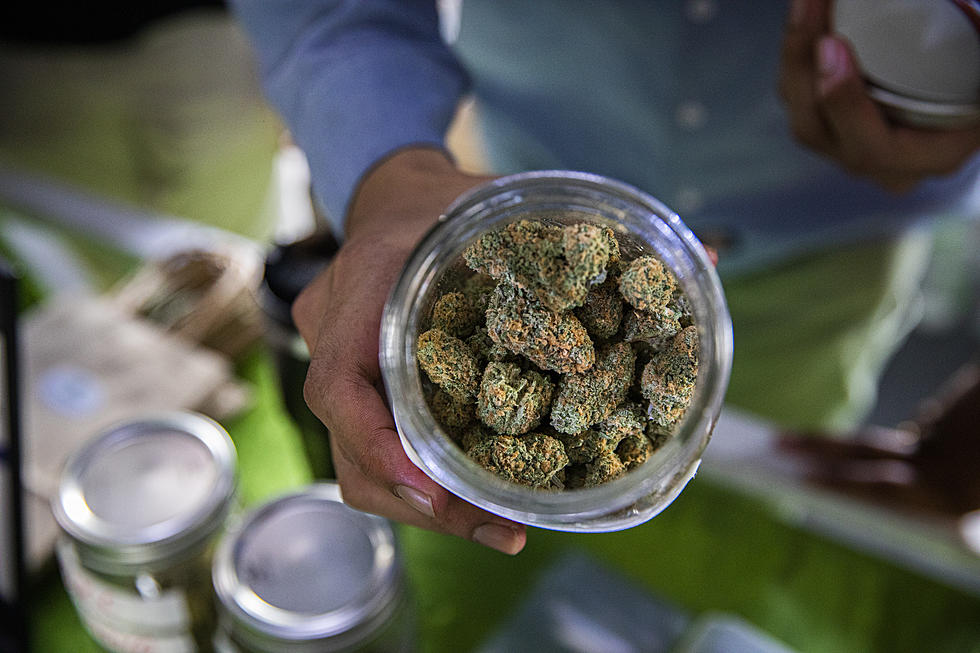 You Can Legally Buy Recreational Marijuana At These 7 Shops In WNY Now
Getty Images
New York State has finally opened some of its first adult-use recreational dispensaries. But, the four licensed in WNY has not opened yet. If you plan on celebrating 420 today, you might be looking for a spot to get your "party favors" from. Well, even though New York State-sanctioned dispensaries haven't opened in Western New York, there are still places that can service you.
You can still legally buy weed at these native territory stores. Remember, you must be 21 years of age or older.
Seneca Nation - Nativa Cannabis
765 Niagara Street, Niagara Falls, NY 14303
The Tuscarora Nation - The Shack (Behind Jay's Place)
5446 Walmore Rd, Lewiston, NY 14092
The Seneca Nation - Doogie's Smoke Shop
11187 Route 20, Irving, NY 14081
The Seneca Nation - The Dope Aunties
357 Milestrip Ext, Irving, NY 14081
The Seneca Nation - Adlai's Smoke
12689 NY-438, Irving, NY 14081
The Seneca Nation - Good Leaf
14411 NY-438, Gowanda, NY 14070
The Seneca Nation - 420 Rez Bud
12623 Versailles Plank Rd, Lawtons, NY 14091
If you have a native dispensary in WNY that you want me to add to the list, tweet me @937WBLK.
New York State Approves 4 Cannabis Dispensary Licenses In WNY
The New York State Cannabis Control Board has approved 4 Conditional Adult-Use Retail Dispensary licenses in Western New York. The new licenses in our region were among 99 that got approved, bringing the total provisional retail dispensary licenses to 165.
In addition to the four for Western New York, there was one for Central New York, five for MidHudson, and three for Brooklyn. These are the first provisional licenses to be issued in these regions due to a lawsuit that had been previously filed. Recently a modification of a court injunction allowed the Board to issue them. With the new licenses, the only region that has not had any licenses issued is the Finger Lakes Region, which is still blocked by the injunction. The board will accept applications for licenses on a rolling basis.
Tremaine Wright, Chair of the Cannabis Control Board, said,
We are proud of today's approval of 99 CAURD provisional licenses, marking a vast expansion of the Seeding Opportunity Initiative as we continue to build an equitable market that offsets harms caused by cannabis prohibition and its disproportionate enforcement. These new licenses will allow entrepreneurs to fairly participate in the legal market while promoting innovation and creative diversity throughout New York's ever-growing cannabis supply chain and we're thankful for the ongoing support of Governor Hochul and the Legislature for helping us reach this day.
According to WETM, these are the four recipients of the licenses in WNY:
- Aaron Van Camp
- AMSM, an LLC owned by Gina Miller and Glen Miller
- Flower City Shop, an LLC owned by Jamie Donato-Rivera and Phetnakhone Duangtavilay
- Premier Earth, a corporation owned by Joseph Wojciechowski

 
Here Are The 20 Towns In Erie County That Won't Allow Marijuana
Here Are The Towns In Chautauqua County That Will Allow Marijuana Sales
These 9 Towns In Niagara County Will Not Allow Marijuana Sales